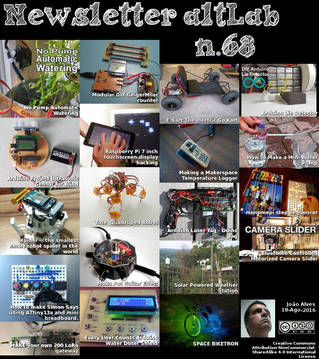 Esta semana no fórum da Intel o seu CEO apresentou o Intel Joule compute module. Trata-se de uma plataforma de desenvolvimento de alto desempenho especificamente dedicada ao IoT (Internet of Things). No mesmo evento foi igualmente anunciado o projecto Alloy que se trata de uma solução tudo-em-um de realidade virtual aumentada. A Google está a desenvolver um novo sistema designado de Fuchsia desenhado para correr em todas as plataformas. Trata-se de uma alteração na estratégia da Google que até à data tinha desenvolvido todos os seus sistemas recorrendo ao Linux. Contudo, como sabemos, o Linux não é solução para tudo e os engenheiros da Google estão a preparar este novo sistema. Muita documentação e código fonte foram disponibilizados pela Google no GitHub. Noutras noticias a AMD demonstrou uma melhoria significativa de desempenho na sua próxima geração de processadores Zen. A Microsoft disponibilizou o Powershell em open-source e disponível para Linux e MacOS. A Audi desenvolveu um tecnologia que poderá tornar os semáforos obsoletos. A Uber vai começar os testes em Pittsburgh com carros de condução autónoma. Em Helsínquia começaram os primeiros testes com autocarros de condução autónoma. A Intel vai fabricar processadores ARM. Por fim foi descoberto um tubarão na Gronelândia que se pensa ter cerca de 400 anos.
Na Newsletter desta semana apresentamos diversos projetos de maker. Na rubrica "Documentação" apresentamos um novo livro da MagPI designado Simple Electronics with GPIO Zero.
Esta Newsletter encontra-se mais uma vez disponível no sistema documenta do altLab. Todas as Newsletters encontram-se indexadas no link.