(scroll down for English)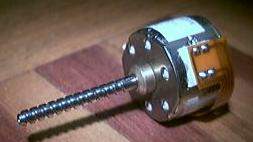 Vamos pegar aleatóriamente num motor de passo e tentar descobrir que tipo de motor é, desenhar um diagrama simples do mesmo.
Depois vamos pegar no ferro de soldar (não há que ter meeeeeedo :)) e montar um circuito que permite controlar esse motor a partir de um Arduino ou qualquer outra placa baseada num microcontrolador.
Todo o material é fornecido e fica para os participantes, sendo apenas necessário trazer ferro de soldar e multimetro (ou esperar que alguma alma caridosa vos empreste).
O número de participantes é limitado pelo que, se disserem que vêm, contamos MEEESMO convosco 😉
Para inscrições e pedidos de informação: workshops /arroba/ audienciazero.org
Lotação máxima de 10 participantes
Sábado 13 de Março de 2010
AltLab em Cacilhas
14h00m
5€
---
Let's each of us pick up a random stepper and try to find out what kind of stepper it is, draw a simple diagram.
Then pick up the soldering iron (have noooooo fear :)) and assemble a circuit to control that motor from an Arduino or any other microcontroller-based board.
All materials are supplied to the participants and everyone gets to keep them; you're just required to bring your own soldering iron and multimeter (or wait a random amount of time to borrow someone else's).
The number of participations is limited, therefore, if you tell us you'll come, we'll REEEALLY be waiting for you 😉
For registration and information requests: workshops /at/ audienciazero.org
Maximum of 10 participants
Saturday, March 13 2010
AltLab @ Cacilhas
14h00m
5€