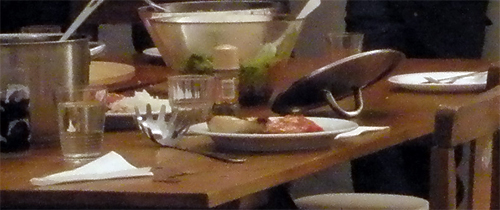 Fee­ding 15 sle­ep depri­ved hac­kers is not an easy task and during the AZ Resi­dency only 3 peo­ple were bra­ve enough to put their culi­nary talents to the test: Joel, Vitor and Mari­a­na. Everyo­ne agre­ed that their home­ma­de meals were awe­so­me and no bug reports were filed. Sin­ce we beli­e­ve in sha­ring, here are Joel's deli­ci­ous open sour­ce reci­pes (in fren­ch com­me il faut):
Salad Dres­sing [ VO ]
4 cuillè­re à sou­pe d'hui­le d'olive
3 cuillè­re à sou­pe de vinai­gre balsamique
2 cuillè­re à café de miel
sel
poivre
Goû­ter et ajus­ter : si trop sucré, ajou­ter du vinai­gre / si trop amer, ajou­ter du miel.
Bask Chic­ken [ VO ]
Pré­voir un bon mor­ce­au de pou­let pour cha­cun des invités
Poivron
Tomate
Sau­ce tomate
Oignon
sel
poivre
Eau