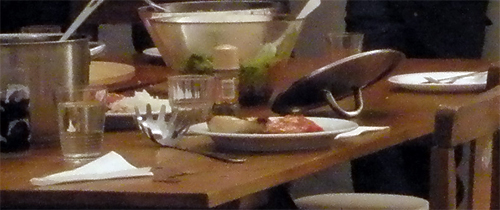 Feeding 15 sleep deprived hackers is not an easy task and during the AZ Residency only 3 people were brave enough to put their culinary talents to the test: Joel, Vitor and Mariana. Everyone agreed that their homemade meals were awesome and no bug reports were filed. Since we believe in sharing, here are Joel's delicious open source recipes (in french comme il faut):
Salad Dressing [ VO ]
4 cuillère à soupe d'huile d'olive
3 cuillère à soupe de vinaigre balsamique
2 cuillère à café de miel
sel
poivre
Goûter et ajuster : si trop sucré, ajouter du vinaigre / si trop amer, ajouter du miel.
Bask Chicken [ VO ]
Prévoir un bon morceau de poulet pour chacun des invités
Poivron
Tomate
Sauce tomate
Oignon
sel
poivre
Eau