Hey all,
A few months ago our space has been moved from the center of Lisbon, to a place called Ginjal, for those who don't know Lisbon it is by the other side of the river, not in the city.
Although the space was amazing the distance from the city, the creepy walk to get there and the hard winter conditions made us start thinking about getting our space back in the city. Also we noticed (probably because of the previous exposed reasons) the number of regular members was decreasing week by week.
We were planning to do this pretty soon, but one week ago we got noticed that we had to move out from the space in Ginjal as soon as possible, since it will be closed and demolished pretty soon (nothing surprising, since the building was showing external damages and in risk of collapsing).
So here we are, back in Lisbon! By coincidence or not, we are right on the place we started. But this time is different, we have rented two rooms for our hackerspace, since the previous existing business Geraldine has moved to another place in downtown.
Here is a picture of how one of the rooms looks like right now :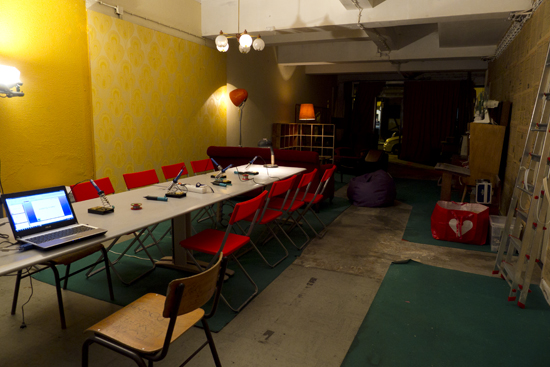 From now on our hackerspace we'll be open every tuesday night from 20h to 24h and you are very welcome to show off and meet us, check what we are doing and show us what you do!
Stay tuned because we have some news to announce in the next weeks! There are some nice and new workshops being prepared already.
Hope to see you soon! 🙂