In the next weeks we'll be giving two workshops at Beta­Lab, a co-wor­king spa­ce orga­ni­zed by betahaus| within the Chi­a­do-After-Work program.
Here's all the infor­ma­ti­on and workshops' sche­du­le (in Portuguese):
Workshop DIY Kine­tic Solar­Bots — Cons­trua o seu pró­prio robot ciné­ti­co solar.
Nes­te workshop os par­ti­ci­pan­tes vão cons­truir um peque­no robot ciné­ti­co atra­vés da mon­ta­gem de um cir­cui­to solar com um peque­no motor e do design/modelagem do cor­po do robot com Shmel­zo­lan (plás­ti­co uti­li­za­do em artesanato).
Datas : 12 de Maio / 19 de Maio / 26 de Maio
Horá­rio : 17h — 21h
Pre­ço : 25 Euros/Pessoa
Local : Rua Gar­rett, 70 (Bai­xa, Lisboa)
CC : Video by xda­te­li­er (http://xdatelier.org/)
Workshop Elec­tró­ni­ca Apren­der a soldar
Qual­quer pes­soa é capaz de fazer uma boa sol­da­du­ra, é só uma ques­tão de prá­ti­ca! Nes­te workshop apren­de­mos a sol­dar cons­truin­do cir­cui­tos mui­to diver­ti­dos como o Pis­ca-Pis­ca LED, uPONG (Retro Video GAME), Draw­dio (um lápis/pincel que emi­te sons enquan­to dese­nhá­mos) entre outros.
Datas : 14 de Maio / 21 de Maio / 28 de Maio
Horá­rio : 17h — 21h
Pre­ço : entre 10 — 35 Euros/Pessoa (con­so­an­te o kit selec­ci­o­na­do para construir)
Local : Rua Gar­rett, 70 (Bai­xa, Lisboa)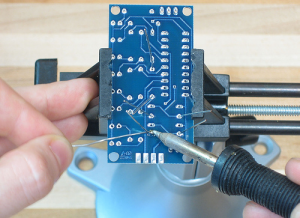 A ins­cri­ção para qual­quer um dos workshops numa das das dis­po­ní­veis deve ser efec­tu­a­da via email para o ende­re­ço : [email protected]