Posts tagged
electronics
0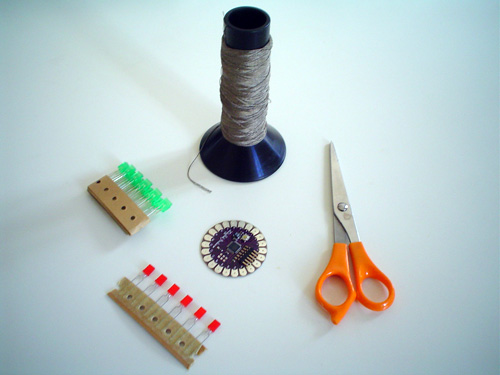 This Sun­day we're hold­ing our first Soft Cir­cuits Open Lab at the School of Fine Arts in Lis­bon (FBAUL — Fac­ul­dade de Belas Artes de Lis­boa). There is no pre­de­fined struc­ture for the event. We will meet for the course of one day with the pur­poses of shar­ing knowl­edge, exper­i­ment­ing freely, advanc­ing on-going projects, and just hav­ing fun work­ing together. Some of the peo­ple attend­ing will be spe­cial­ists in elec­tron­ics and oth­ers in tex­tiles. Bar­camp style impromptu pre­sen­ta­tions are very welcome.
Alt­lab will pro­vide some basic tools such as pli­ers, scis­sors, sol­der­ing irons, iron­ing board, etc. But par­tic­i­pants must bring all the mate­ri­als and addi­tional equip­ment nec­es­sary for their own projects/experiments (includ­ing lap­tops). Here are some sug­ges­tions: any kind of fab­ric, nee­dles and thread, yarn, t-shirts, con­duc­tive and/or resis­tive fab­ric, con­duc­tive thread, con­duc­tive and/or resis­tive yarn, knit­ting and/or cro­chet nee­dles, LEDs, coin cell bat­ter­ies, bat­tery hold­ers, EL wire, strands of fiber optics, cop­per foil, cop­per adhe­sive track, alu­minum foil, resis­tive foam, reg­u­lar foam, arduinos (lily­pad or any other kind). If you've never worked with any of these mate­ri­als and don't have them handy, come any­way, you can help some­one else with their project and learn along the way.
For more infor­ma­tion on soft cir­cuits tech­niques and mate­ri­als, check out the Soft Cir­cuits Resources sec­tion on the open­Ma­te­ri­als wiki.
This open lab will take place on Feb­ru­ary 21st, from 10:30 to 18:30, at the School of Fine Arts in Lis­bon, room 307, 1st floor (since our own space is still under con­struc­tion). All are wel­come, there is no fee nor reg­is­tra­tion, but please do let me know if you are plan­ning on com­ing: catarinamota(at)audienciazero.org
1
Hello "intrenets" people(s)
This post today reflects a lit­tle about  what cir­cuit bend­ing and diy are.
I have many friends and col­leagues  ask­ing me "-So what is cir­cuit bend­ing?", well here goes the awser and a bit of the his­tory behind cir­cuit bending.
Seems that a guy called Reed Ghaz­ala, was mak­ing exper­i­ments with some syn­the­siz­ers, try­ing to get some more sounds out of the elec­tronic instru­ments, so he decided to open one and poke the guts of the beast .
He soon  finds out that the core of an elec­tronic instru­ment its a lot of fun and this could be excit­ing discover.
Now…have you ever heard of the Savant syn­drome ?  a per­son who as Savant Syn­drome have the abil­ity of mix­ing emo­tions, like see­ing num­bers in a wide vari­ety of col­ors or the alpha­bet in shapes and forms, the cause of this, its sim­ply the brain and some short fuses in some areas, and this its exactly what Cir­cuit bend­ing is.
So, when Reed decided to explore the pos­si­bil­ity of the short cir­cuit he open a big door for exper­i­men­tal music and a new form of see­ing elec­tronic devices, the idea its sim­ply bril­liant, lets open some toys, synths, ped­als (what­ever) and lets start to take some really cool sounds out of it, and the bril­liant part is : you don't need to know about elec­tron­ics or be a geek who spent all day in the garage (myself included), because cir­cuit bend­ing its like a a brain in short fuse.
What you need to cir­cuit bend­ing some stuff ?  This is another ques­tion and an impor­tant one. Hummm lets see:
First, you will need some kind of device that pro­duces sound, like a toy, a dis­tor­tion pedal, an old synth just to name a few.
Sec­ond, this is the impor­tant part DON'T USE ANYTHING THAT CONNECTS DIRECTLY TO THE AC/DC POWER, this means DEATH, instead use bat­ter­ies, all kinds of bat­ter­ies and even trans­form­ers as long you don't touch that evil 220 V you are in business .
Third, open your device and choose your method of oper­a­tion, this could be done in a vari­ety of ways, you could use your fin­gers with a lit­tle of saliva (ughhh), or two screw dri­vers con­nected by an alli­ga­tor clip.
Four, explore and see if the device reacts to your touch pok­ing some cir­cuits, i often get some great results pok­ing the chips legs and con­nect­ing them together, find­ing the cool points its fun so don't give up if you don't find some­thing in the first 5 minutes.
Five, ohh the "intrenets" yes there's a lot in here just search a bit and you will find your­self in a brand new world, of course the cir­cuit bend­ing com­mu­nity its open minded and friendly, so don't be shy and ask ques­tions (most of us don't know what are doing so join the club).
Now you know were Beck, Madonna, Mike Pat­ton and many oth­ers are get­ting they inspi­ra­tion (yeah that's right Madonna), the musi­cal pos­si­bil­ity are immense, just think  is you, who  are dis­cov­er­ing your own sounds and mak­ing it at the same time (not like a patch in a syn­the­sizer ) some­thing really new and fresh made entirely  by you.
So,  what is Cir­cuit Bending  ?
5
This is a fully func­tional ver­sion of the Arduino. We elim­i­nated the PCB and use paper and card­board as sup­port and the result is.. the PAPER­duino :D
This is the the first ver­sion of the lay­out design, next we will try more designs, and other mate­ri­als. You just need to print the top and the bot­tom lay­outs, and glue them to any kind of sup­port you want. We hope that you start mak­ing your own boards. If you do, please share your pho­tos with us, we would love to see them ;)
There is no USB direct con­nec­tion, so to pro­gram the paper­duino you will need some kind of FTDI cable or adapter. One of this prod­ucts will be fine:
FTDI cable from Adafruit Indus­tries
FTDI adapter from Sparkfun
Com­po­nents list:
1 x 7805 Volt­age reg­u­la­tor
2 x LEDs (dif­fer­ent col­ors)
2 x 560 Ohm resis­tors (between 220oHm and 1K)
1 x 10k Ohm resis­tor
2 x 100 uF capac­i­tors
1x 16 MHz clock crys­tal
2 x 22 pF capac­i­tors
1 x 0.01 uF capac­i­tor
1 x but­ton
1 x Atmel ATMega168
1 x socket 28 pin
Female and Male headers
Instruc­tions:
Use a nee­dle to punc­ture the holes for your components.
Don't rush, place one com­po­nent after another and do all the sol­der work carefully.
Fol­low the con­nec­tion lines.
And this should be the final look of your paper­duino connections.