[PT]No último sábado, 5 de Fevereiro, o alt­lab orga­ni­zou o Arduino Hack Day.
Par­tic­i­param no evento perto de 40 pes­soas, entre entu­si­as­tas em elec­trónica, artis­tas, pro­gra­madores, arqui­tec­tos, fotó­grafos, ami­gos.
[EN]On Feb 5th alt­lab held its first Arduino Hack Day. Around 40 enthu­si­asts, artists, pro­gram­mers, archi­tects, pho­tog­ra­phers and friends par­tic­i­pated in the event.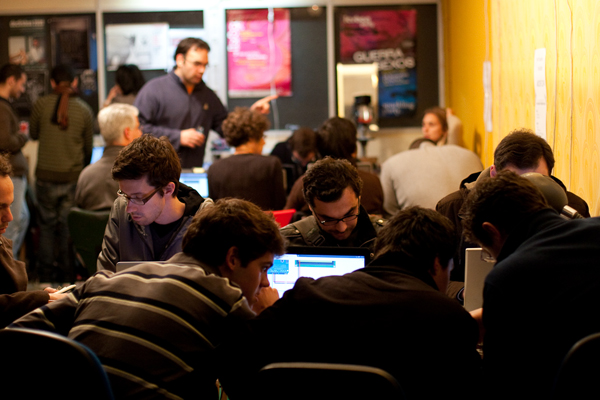 [PT]Para muitos, foi o primeiro con­tacto com o Arduino, a descoberta da sim­pli­ci­dade desta plataforma para o desen­volvi­mento de pro­jec­tos de com­putação física.
Dis­tribuí­dos por qua­tro ban­cadas, os par­tic­i­pantes começaram a exper­i­men­tar assim que chegaram!
[EN]For many this was their first con­tact with the Arduino, dis­cov­er­ing the ease with which this plat­form can be used for the devel­op­ment of phys­i­cal com­put­ing projects.
Assem­bled around work­benches, par­tic­i­pants started exper­i­ment­ing as soon as they arrived!
[PT]Uma das ban­cadas, ded­i­cada ao tema Arduino, motores e a robótica, ficou por conta do Guil­herme Mar­tins (Gui­bot). Noutra ban­cada, alguns prin­cipi­antes apren­diam a dar os primeiros pas­sos, com a ajuda de mem­bros do alt­lab.
[EN]One of the tables, ded­i­cated to Arduino, motors and robot­ics, was run by Guil­herme Mar­tins (Gui­bot). Near by, at another table, some par­tic­i­pants took their first steps with the help of alt­lab mem­bers.
[PT]Enquanto isso, a impres­sora 3D ("maker­bot") trazida pelo nosso con­vi­dado neoze­landês, Tiago, ia impri­m­indo as primeiras peças.
[EN]All the while, the Maker­Bot brought by our New Zele­and guest Tiago, was print­ing some plas­tic parts for the projects.
[PT]O Pedro Ângelo, do LCD­Lab, veio do Porto para nos aju­dar e ressus­ci­tou um pro­jecto antigo do Mau­rí­cio, que depois de pronto gerou alguma diver­são…
[EN]O Pedro Ângelo, from LCD­Lab, came from Porto to help out and decided to bring back to life an old project of Maurício's which imme­di­ately turned into a lot of fun.…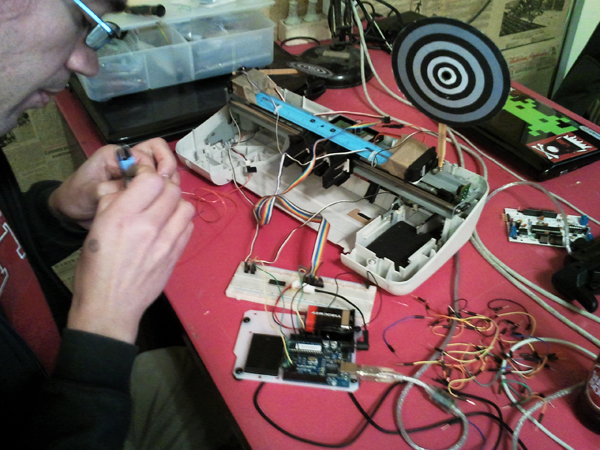 [PT]Logo depois do almoço começaram as apre­sen­tações. A Mónica Mendes e o Mau­rí­cio Mar­tins deram a con­hecer o colec­tivo alt­lab, o seu pas­sado, pre­sente e futuro. A Cheng Xu, tam­bém nossa con­vi­dada, apre­sen­tou-nos o Seee­duino Film. Por fim, o Gui­bot e o André, da Artica, falaram do Motoru­ino e do Far­r­usco.
[EN]After lunch we had some pre­sen­ta­tions. Mónica Mendes and Mau­rí­cio Mar­tins talked about the past, present and future of alt­lab. Our guest Cheng Xu pre­sented the See­duino film. Finally, Gui­bot and André from Artica talked about the Motoru­ino and Far­r­usco.
[PT]Pas­sadas 10 horas de puro hack­ing e muita cerveja, o Arduino Hack Day chegava ao fim, todos os par­tic­i­pantes muito sat­is­feitos com a exper­iên­cia. O alt­lab con­seguiu con­cretizar o prin­ci­pal objec­tivo desta ini­cia­tiva: jun­tar pes­soas inter­es­sadas em par­til­har con­hec­i­men­tos sobre o Arduino, aju­dar quem nunca tinha desen­volvido nada com a plataforma e con­quis­tar novos inter­es­sa­dos em per­tencer a este colec­tivo fan­tás­tico!
[EN]After 10 hours of pure hack­ing and lots of beer, the Arduino Hack Day came to an end, and every­one left with a smile on their faces. We were able to attain the main goals for this event: gather peo­ple inter­ested in shar­ing knowl­edge about the Arduino, help those who had never used the plat­form, and have sev­eral new mem­bers join our beloved col­lec­tive.
[PT]Por último, fica aqui um agradec­i­mento muito espe­cial aos mem­bros do alt­lab que con­tribuíram na orga­ni­za­ção deste evento:
[EN]Finally, a word of spe­cial thanks to the alt­lab mem­bers who con­tributed to mak­ing the Arduino Hack Day pos­si­ble:
Andre Almeida, Ferdi Meier, Guil­herme Mar­tins, Leonardo Mar­ques, Manuel Alves, Mauri­cio Mar­tins, Mónica Mendes, Nuno João, Paulo Rodrigues e Pedro Ângelo (LCD).
Some pho­tos by João Nogueira e Rita Car­valho.
Flickr Photo Set: http://tinyurl.com/6f7vhsx
Eng­lish ver­sion soon!