The AZ Labs res­i­dency at Espaço do Tempo in Mon­te­mor-o-Novo is sadly over for now. Folks have been work­ing hard to fin­ish things up for the proto exhi­bi­tion of projects we had on Sat­ur­day.
A few projects were shelved or aban­doned for dif­fer­ent rea­sons. Not sta­ble enough, not enough time, no right mate­ri­als, not enough beer. In the end were left with 9 projects.
AR Cubes — André Sier devel­oped a few exper­i­ments with cubes glued with printed aug­mented real­ity fidu­cial mark­ers. Dif­fer­ent mark­ers trig­ger dif­fer­ent effects. You can play with them to make dif­fer­ent com­bi­na­tions of objects and lines inter­act­ing with each other.
Track­ing Head — Tiago Serra, Andrea Inocên­cio and Mauri­cio Mar­tins worked on a manequin head res­cued dur­ing a dump­ster div­ing ses­sion. They equipped a box with IR leds and use a cam­era with fil­ters to track the move­ment of the box. With these val­ues they send rota­tion infor­ma­tion to a servo motor equiped in the base of the manequin head. The same val­ues are also sent to a soft­ware that selects a cor­re­spond­ing angle photo which is pro­jected in the manequin. This sys­tem makes the freaky manequin head rotate in the direc­tion of the object.
Talk­ing Head — Next to the Track­ing Head we have a speaker box equipped wih an arduino, an ir receiver and a wave shield. When the box han­dled by the user aims at the speaker box it trig­gers ran­dom sam­ples from a sam­ple pool, giv­ing the illu­sion that the head itself is talk­ing. Mauri­cio, André, Fil­ipe, João and Rita worked on this project.
Track­ing Boids — The floor of the Track­ing Head space is cov­ered with small light spots fly­ing around. These boids, pro­grammed by André Sier may look like ran­dom disco lights on first glance but when some­one moves into the cam­era they flock towards the user.
Micro CNC — Tiago Rorke had been work­ing on a Micro CNC project, pieces printed with the Maker­bot. Tereza Car­doso gave him a hand mak­ing a project out of it by tak­ing pho­tos of the atten­ders of the res­i­dency, down­grad­ing them to vec­tor for­mat and hav­ing the micro cnc sketch them. They are drawn on the walls of the res­i­dency itself, along with qr code link­ing to video inter­views talk­ing about each per­sons involve­ment with the dif­fer­ent projects.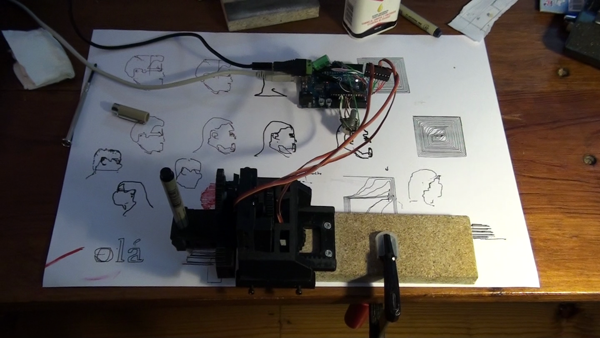 Paint Video Sig­nals — Andrea Inocên­cio recorded some short videos of red blue and black paint being applied to dif­fer­ent medi­ums (water, paper, table). Fil­ipe Cruz did a lit­tle pro­cess­ing sketch to extract midi val­ues from a grid of pix­els in the video and send them to reak­tor. Some gen­er­a­tive sound tests were recorded and mixed into a video dvd.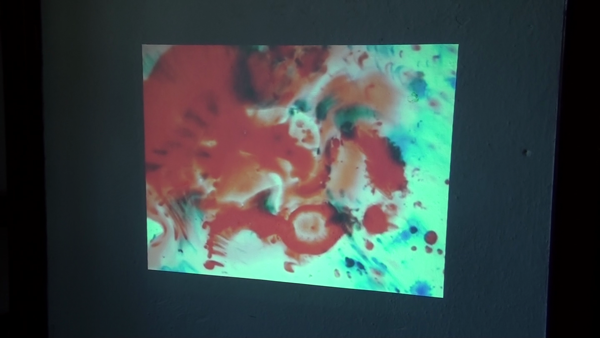 Blip Blop Blir Boxes — André Sier and Mauri­cio Mar­tins worked on a few small boxes packed with an Arduino, IR sen­sors, LEDs and speak­ers. Boxes point­ing to each other make the LEDs change their color. A third box pointed to the pre­vi­ous boxes makes them give out some blips and blops sounds.
"O mundo é em cada instante o que ele não pode não ser." — A project con­ceived by Patri­cia Proença con­sist­ing of a hand drawn ani­ma­tion of a tree grow­ing being pro­jected into a wall. The ani­ma­tion is trig­gered when a water­ing can equiped with a cell­phone is tilted into an alien plant object. Tiago Serra gave her a hand with the tech­ni­cal imple­men­ta­tion.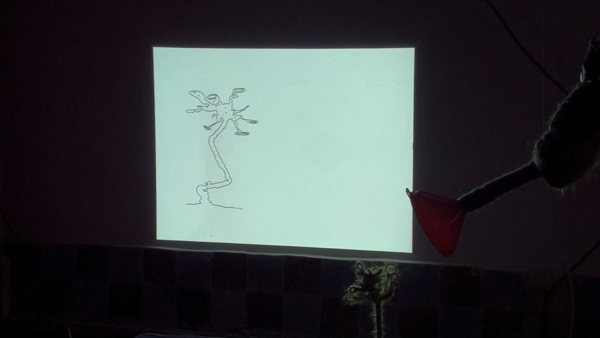 Trailchi — Guil­herme Car­taxo and Sónia Malaquias been work­ing for while on their project involv­ing long expo­sions to tai chi ses­sions per­formed in the dark with a sword and suit equipped with 12 LEDs. The cap­tured ani­ma­tions makes some beau­ti­ful light trails art. Also helps analyse the motion of the ses­sion.