Hey all,
A few months ago our space has been moved from the cen­ter of Lis­bon, to a place cal­led Gin­jal, for those who don't know Lis­bon it is by the other side of the river, not in the city.
Although the space was ama­zing the dis­tance from the city, the cre­epy walk to get there and the hard win­ter con­di­ti­ons made us start thin­king about get­ting our space back in the city. Also we noti­ced (pro­ba­bly because of the pre­vi­ous expo­sed rea­sons) the num­ber of regu­lar mem­bers was decre­a­sing week by week.
We were plan­ning to do this pretty soon, but one week ago we got noti­ced that we had to move out from the space in Gin­jal as soon as pos­si­ble, since it will be clo­sed and demo­lished pretty soon (nothing sur­pri­sing, since the buil­ding was showing exter­nal dama­ges and in risk of col­lap­sing).
So here we are, back in Lis­bon! By coin­ci­dence or not, we are right on the place we star­ted. But this time is dif­fe­rent, we have ren­ted two rooms for our hac­kers­pace, since the pre­vi­ous exis­ting busi­ness Geral­dine has moved to another place in down­town.
Here is a pic­ture of how one of the rooms looks like right now :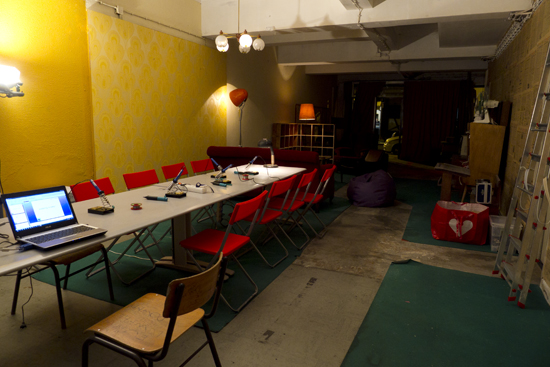 From now on our hac­kers­pace we'll be open every tues­day night from 20h to 24h and you are very wel­come to show off and meet us, check what we are doing and show us what you do!
Stay tuned because we have some news to announce in the next weeks! There are some nice and new workshops being pre­pa­red alre­ady.
Hope to see you soon! 🙂