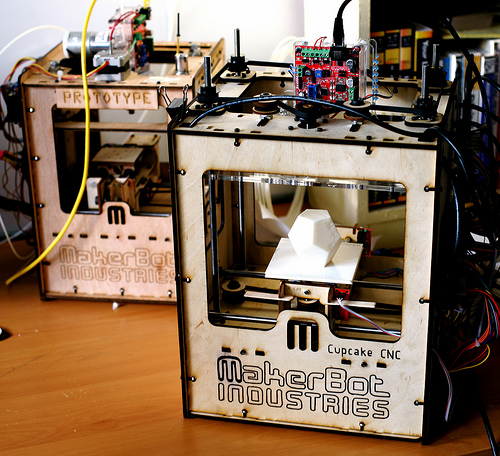 Datas: 19 de Out a 1 de Nov de 2009
Local: Lisboa (espaço a anunciar)
Horários:
19:30 às 22:30 (dias de semana)
11:00 às 19:00 (fins de semana)
total de 58h
Informação e inscrições: http://www.audienciazero.org/cct/3dprinting
Organização: Audiência Zero (altLab + LCD)
Contacto: catarinamota (at) audienciazero (dot) org
(inscrições abertas :: número limitado de vagas)
:::::::::::
A impressão 3D é uma forma original de impressão, no âmbito da tecnologia de prototipagem, em que um objecto tridimensional é criado por uma máquina a partir da acumulação de camadas sucessivas de um dado material (Wikipedia).
O Workshop
O objectivo do workshop é a construção e utilização de uma impressora 3D open source (modelo MakerBot). Os participantes irão construir a máquina de raiz: desde a montagem das componentes electrónicas e extrusor, passando pela mecânica, até à junção de todas as peças. Irão ainda adquirir e aperfeiçoar aptidões e técnicas nas área de fabrico de electrónica, mecânica, modelação 3D, fabricação digital e resolução de problemas com impressoras 3D. O workshop será ainda um lugar privilegiado para adquirir conhecimentos sobre os mais diversos tópicos, como teoria da electrónica, design de firmware, engenharia mecânica, protocolos de série, fabricação digital e desenho 3D.
A impressora 3D construída durante o workshop ficará posteriormente disponível para os membros do altLab (qualquer interessado se pode inscrever no altLab se assim o desejar). Os participantes que desejem construir a sua própria máquina, e levá-la para casa, terão que adquirir o respectivo kit open source no site da MakerBot.
Zach Hoeken
Zach Hoeken likes to dream big, fail big, and win big. His true passion in life is acting as a catalyst and helping others do amazing things. Whether it is creating open source micro controllers (sanguino.cc), robot controller software (replicat.org), object sharing websites (thingiverse.com), self replicating 3D printers (reprap.org), or hacker collectives (nycresistor.com) there is one central purpose: to help other people help themselves create an awesome world to live in. He hopes that someday we can create a world that surpasses even the wildest futures portrayed in science fiction. He thinks the universe is and will continue to be completely rad. Do you want to help?
Datas e Valores para inscrição no workshop:
Inscrições até 31 de Julho: 200€*
(50% no acto de inscrição + 50% até 19 de Setembro)
Inscrições após 31 de Julho: 250€*
(pagos no acto de inscrição)
* não reembolsável