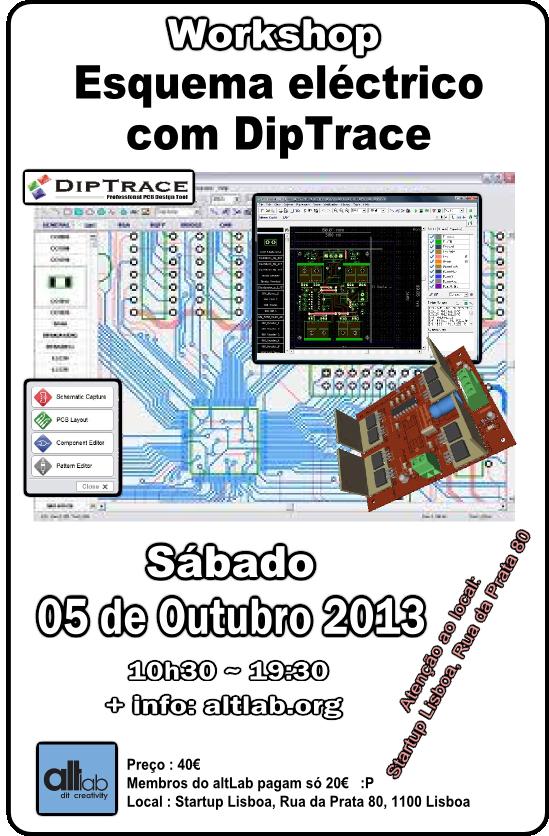 Workshop Esquema Eléctrico com DipTrace
Se já fizeste um esquema eléctrico e tentaste desenhá-lo num EDA (Electronic Design Automation) como o famoso Eagle já sabes como pode ser fastidioso, repetitivo e frustrante!
Dá o salto para o mais intuitivo dos pacotes de desenho electrónico no mercado!
O DipTrace da Novarm é um software de EDA para a criação de diagramas esquemáticos e placas de circuito impresso.
O que o DipTrace tem de diferente é ser super-intuitivo de usar, ter uma curva de aprendizagem muito suave e a sua utilização ser uma agradável surpresa. No entanto, tem potência qb para os mais exigentes e funções de sobra para os profissionais.
Na busca de soluções mais válidas para os seus clientes, grandes empresas de kits didácticos baseados em microcontroladores como a Parallax (BasicStamp) ou a Revolution software (Picaxe) preferiram o DipTrace ao Eagle para o desenvolvimento das suas placas de circuito impresso.
O DipTrace inclui os seguintes 6 módulos:
– Schematic Design Editor
– PCB Layout Editor
– Component Editor
– Pattern Editor
– Shape-Based Autorouter
– 3D PCB Preview
Para hobistas o DipTrace tem um versão freeware com todas as funcionalidades do pacote completo, apenas limitada a 300 pinos e uso não-comercial. As camadas de alimentação e terra (power and ground plane) não contam como camadas de sinal, por isso as versões gratuitas podem criar placas de 4 camadas!
Para este workshop os participantes devem possuir conhecimentos de esquema eléctrico e de preferência já ter feito algums projectos noutro software de desenho técnico como CAD ou EDA.
Os conhecimentos de electrónica são desejáveis mas não fundamentais.
Conceitos abordados
a) Introdução ao Esquema Eléctrico e Electrónico
b) Os Módulos do DipTrace
c) Creating a simple Schematic and PCB:
– Establishing a schematic size and placing titles
– Configuring libraries
– Designing a schematic
– Converting to a PCB
d) Designing a PCB:
– Preparing to route
– Autorouting
– Working with layers
– Working with vias
– Net Classes
– Manual Routing
– Measuring trace length
– Selecting objects by type/layer
– Placing Text and Graphics
– Copper Pour
– Locking objects
– Design Verification
– Design Information
– Panelizing
– Printing
Vem aprender fazendo! O ambiente é técnico mas numa práctica descontraída típica do altLab!
Podem obter o DipTrace em [http://www.diptrace.com/download.php]
Este work­shop será ori­en­tado por membros do altLab.
Inscrições : AQUI (a inscrição on-line é obrigatória)
Preço : 40€. Membros do altLab só pagam 20€ ;p
Local : Startup Lisboa (Rua da Prata 80, 1100 Lisboa)
Cá te esperamos!