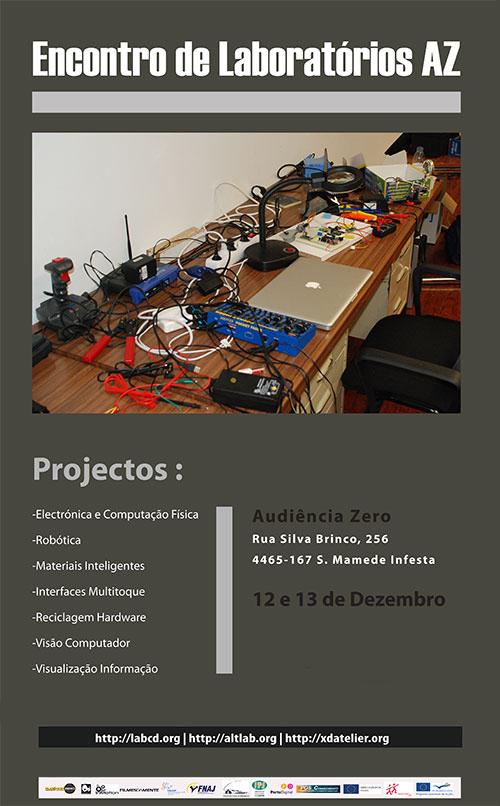 On December 12 and 13 we'll hold the first big meeting of AZ's 3 labs: LCD, altLab, and xDA. We'll all get together in Porto, at AZ's headquarters, for 2 days of creative and fun hacking. The main goals for this hackmeet are to share knowledge, explore synergies, collaborate, research, and… (of course) hang out!
Lab members are currently forming work groups around topics such as: electronics and physical computing, robotics, smart materials, soft circuits, multitouch interfaces, hardware recycling, computer vision, and information visualization.
AZ's hackmeet is mostly meant for lab members, but others are also welcome to join in provided we have enough spots left.
—————–
Nos dias 12 e 13 de Dezembro os membros dos três laboratórios AZ (LCD, AltLab e xDA) organizam a primeira grande reunião de exploração criativa e tecnológica sem fronteiras.
Este encontro é destinado, antes de mais, aos actuais membros dos laboratórios, mas participantes externos são bem-vindos, desde que as vagas existentes assim o permitam.
Durante este fim-de-semana serão criados grupos dedicados às múltiplas áreas em exploração na associação: electrónica e computação física, robótica, materiais inteligentes, interfaces multitoque, reciclagem de hardware, visão por computador, visualização de informação, etc…
O objectivo é a troca de conhecimento, exploração de novas sinergias entre áreas, criação colaborativa, pesquisa e investigação… e claro, convívio. Liberdade total, para tudo ou nada fazer.