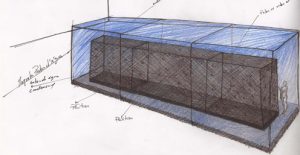 AUTHORS: Rui de Car­valho; Mau­rí­cio Mar­tins; Pedro Ângelo; Kyr­i­akos Kour­saris
Con­cept Author by Rui de Car­valho;
Engi­neer­ing Devel­op­ment by Mau­rí­cio Mar­tins;
Soft­ware Com­put­ing Ori­en­ta­tion by Pedro Ângelo;
Sound and Music by Kyr­i­akos Kour­saris;
Col­lab­o­ra­tion: Ricardo Lobo; João Gonçalves;
CONCEPT:
This project's des­ig­na­tion intends to pro­ceed to a new overview of the human con­di­tion.
We must think of a box that is directed to the inside, to the place where we find our mean­ing and where, there­fore, we part in search of our sig­nif­i­cance.
I want to relive this aware­ness because it implies a demand and this demand will take us, no doubt, to some kind of find­ing.
We can describe "Pedra d' Água" as a Tech­nol­ogy and Dig­i­tal Art Tem­ple, that tries to raise the need of one for another and the rit­ual way we choose to cel­e­brate the empti­ness left in us when some­one leaves.
I won­der if in a near future, this kind of tech­no­log­i­cal chimera will be the only way to ensure the exten­sion of our dis­eased and lost into the liv­ing world.
Also, I ask myself if the machine becomes equal to the human cre­ator, like a post-maker with­out the bur­den of a body or if the cre­ator becomes dom­i­nated by tech­nol­ogy. We must stop and med­i­tate over the pos­si­bil­ity that this way will lead us to the over­pow­er­ing of machine over human, tak­ing us fur­ther into alien­ation.
Nowa­days it's been noted a high num­ber of var­i­ous man­i­fes­ta­tions by web users meant to be some kind of mem­ory or trib­ute to the dis­eased loved ones.
Today, friends and fam­ily keep web­sites updated, as if they refuse to accept the imposed absence. They keep their rou­tines, extend­ing an emo­tional con­nec­tion sim­i­lar to the one that was expe­ri­enced with the loved one.
"Pedra d´Agua" will be like a sanc­tu­ary that will reg­is­ter man­i­fes­ta­tions from web users: when some­one writes or updates one of this "trib­ute" sites, Pedra d´Água will light up, releas­ing a sound. When we don´t find find updated infor­ma­tion, Pedra d´Água" will cry.
I wish to cre­ate a arti­fact that claims our soci­ety as one of liv­ing but, also, as one of dead and that will allow the per­pet­u­a­tion of the indi­vid­ual and col­lec­tive mem­ory accord­ing to a new way: the web.