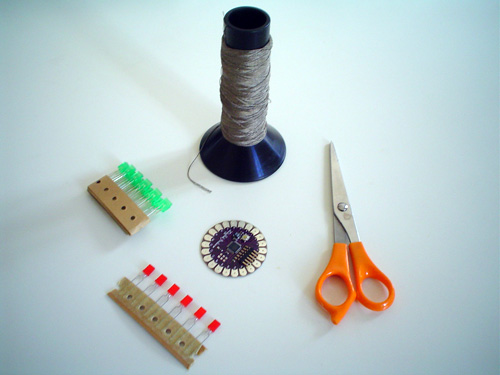 This Sun­day we're hol­ding our first Soft Cir­cuits Open Lab at the School of Fine Arts in Lis­bon (FBAUL — Facul­dade de Belas Artes de Lis­boa). There is no pre­de­fi­ned struc­ture for the event. We will meet for the course of one day with the pur­po­ses of sha­ring kno­wledge, expe­ri­men­ting fre­ely, advan­cing on-going pro­jects, and just having fun wor­king together. Some of the peo­ple atten­ding will be spe­ci­a­lists in elec­tro­nics and others in tex­ti­les. Bar­camp style impromptu pre­sen­ta­ti­ons are very wel­come.
Altlab will pro­vide some basic tools such as pli­ers, scis­sors, sol­de­ring irons, iro­ning board, etc. But par­ti­ci­pants must bring all the mate­ri­als and addi­ti­o­nal equip­ment neces­sary for their own projects/experiments (inclu­ding lap­tops). Here are some sug­ges­ti­ons: any kind of fabric, nee­dles and thread, yarn, t-shirts, con­duc­tive and/or resis­tive fabric, con­duc­tive thread, con­duc­tive and/or resis­tive yarn, knit­ting and/or cro­chet nee­dles, LEDs, coin cell bat­te­ries, bat­tery hol­ders, EL wire, strands of fiber optics, cop­per foil, cop­per adhe­sive track, alu­mi­num foil, resis­tive foam, regu­lar foam, ardui­nos (lily­pad or any other kind). If you've never wor­ked with any of these mate­ri­als and don't have them handy, come anyway, you can help some­one else with their pro­ject and learn along the way.
For more infor­ma­tion on soft cir­cuits tech­ni­ques and mate­ri­als, check out the Soft Cir­cuits Resour­ces sec­tion on the open­Ma­te­ri­als wiki.
This open lab will take place on Febru­ary 21st, from 10:30 to 18:30, at the School of Fine Arts in Lis­bon, room 307, 1st floor (since our own space is still under cons­truc­tion). All are wel­come, there is no fee nor regis­tra­tion, but ple­ase do let me know if you are plan­ning on coming: catarinamota(at)audienciazero.org