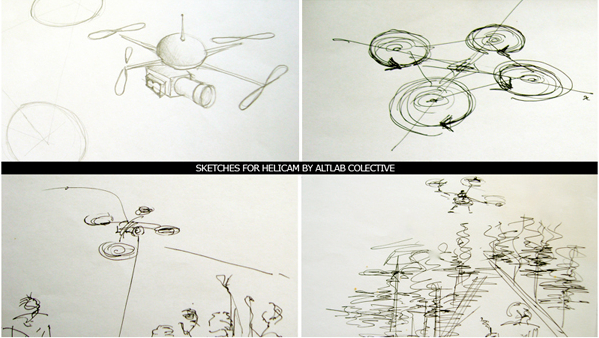 Heli­cam is an AltLab pro­ject that emer­ged from the wish to cap­ture ima­ges from the sky with a WiFi ena­bled camera so that one can see what's being shot from a dif­fe­rent pers­pec­tive and in real-time. This appro­ach may lead to new para­digms in visual pers­pec­ti­ves by ena­bling sho­o­ting from air views at a con­si­de­ra­bly low cost and also so close that can­not be easily done from a heli­cop­ter.
As a real exam­ple, one of the pro­jects to accom­plish with Heli­cam is for tes­ting for local forests sur­veil­lance and use in rela­ted rese­arch pro­jects, as with forest fire pre­ven­tion for sus­tai­na­bi­lity. Other pos­si­ble ope­ra­tion fields can be archi­tec­ture, buil­ding sur­veil­lance or even artis­tic per­for­mance envi­ron­ments where mul­ti­me­dia has a strong pre­sence.
The main idea is to build an inex­pen­sive and fle­xi­ble plat­form using – as a star­ting point – spe­ci­fi­ca­ti­ons made avai­la­ble by seve­ral open source pro­jects avai­la­ble online (like Mikro­kop­ter or UAVP-NG). After doing some ini­tial rese­arch and costs eva­lu­a­tion we rea­li­zed that we can­not make this pro­totype with the resour­ces cur­ren­tly avai­la­ble within the group mem­bers or AltLab and the­re­fore we star­ted to seek for some kind of spon­sorship. I have to say that we were lucky since with only two con­tacts made, we were able to fun­draise money in order to build a flying pro­totype accor­ding to our ini­tial costs pre­dic­ti­ons. Thank you Mob­bit for accep­ting our pro­po­sal!!
If you wanna join us in this pro­ject stop by AltLab in one of our regu­lar Tues­day night mee­tings.