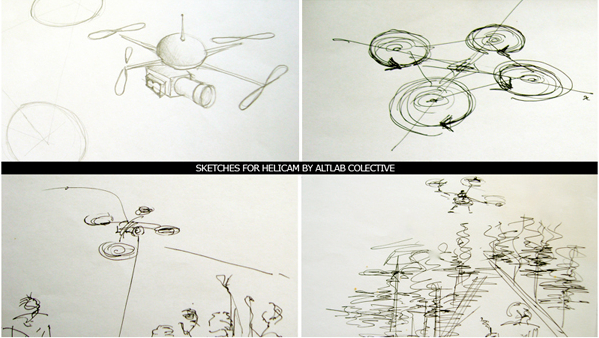 Heli­cam is an Alt­Lab project that emerged from the wish to cap­ture images from the sky with a WiFi enabled cam­era so that one can see what's being shot from a dif­fer­ent per­spec­tive and in real-time. This approach may lead to new par­a­digms in visual per­spec­tives by enabling shoot­ing from air views at a con­sid­er­ably low cost and also so close that can­not be eas­ily done from a heli­copter.
As a real exam­ple, one of the projects to accom­plish with Heli­cam is for test­ing for local forests sur­veil­lance and use in related research projects, as with for­est fire pre­ven­tion for sus­tain­abil­ity. Other pos­si­ble oper­a­tion fields can be archi­tec­ture, build­ing sur­veil­lance or even artis­tic per­for­mance envi­ron­ments where mul­ti­me­dia has a strong pres­ence.
The main idea is to build an inex­pen­sive and flex­i­ble plat­form using – as a start­ing point – spec­i­fi­ca­tions made avail­able by sev­eral open source projects avail­able online (like Mikrokopter or UAVP-NG). After doing some ini­tial research and costs eval­u­a­tion we real­ized that we can­not make this pro­to­type with the resources cur­rently avail­able within the group mem­bers or Alt­Lab and there­fore we started to seek for some kind of spon­sor­ship. I have to say that we were lucky since with only two con­tacts made, we were able to fundraise money in order to build a fly­ing pro­to­type accord­ing to our ini­tial costs pre­dic­tions. Thank you Mob­bit for accept­ing our pro­posal!!
If you wanna join us in this project stop by Alt­Lab in one of our reg­u­lar Tues­day night meet­ings.