3 de Abril de 2011 | April 3rd 2011 @ Pavil­hão do Con­hec­i­mento
[PT]
É com grande sat­is­fação que a Rede de Lab­o­ratórios da AZ (Asso­ci­ação Audiên­cia Zero) anun­cia o primeiro evento da Fab­ri­Cul­ture: o Fab­ri­Camp Lx1!
É ver­dade, será um dia inteiro ao estilo bar­camp , ded­i­cado à fab­ri­cação dig­i­tal. Vários mem­bros e ami­gos dos hack­er­spaces da AZ (LCD, alt­Lab e xDA) irão demon­strar as suas máquinas de pro­toti­pagem ráp­ida, impres­so­ras 3D e CNC Mills.
Caso tenha uma máquina para fab­ri­cação dig­i­tal, seja de que tipo for, acabada, por acabar, avari­ada, etc., traga-a con­sigo. Ou então traga os ami­gos e a família (é um evento tam­bém para cri­anças).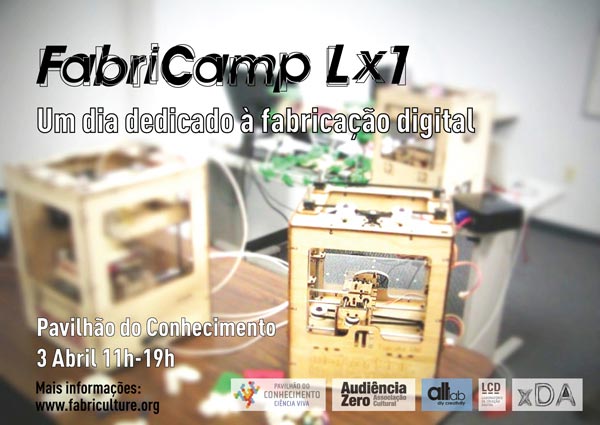 Photo by Maker­Bot Indus­tries
Como em qual­quer outro evento ao estilo bar­camp, os par­tic­i­pantes são tam­bém oradores; por­tanto estão todos con­vi­da­dos a fazer apre­sen­tações, lançar debates, demon­strar os seus pro­jec­tos, o que lhes apete­cer.
A participação é gratuita. Inscreva-se aqui.
A Fabri­Cul­ture é um pro­jecto da AZ Labs Net­work ded­i­cado à pro­moção do fab­rico dig­i­tal open source e da cul­tura maker em geral. Saiba mais sobre a Fab­ri­Cul­ture aqui.
Se a rev­olução do fab­rico dig­i­tal é para si novi­dade , vale a pena dar uma vista de olhos à bela ani­mação da NueveO­jos Full Printed e à apre­sen­tação Schuyler St. Ledger's Ignite Phoenix .
[EN]
The AZ Labs Net­work is extremely happy to announce Fab­ri­Cul­ture's first event: Fab­ri­Camp Lx1! That's right, it'll be a bar­camp style uncon­fer­ence ded­i­cated to dig­i­tal fab­ri­ca­tion. Sev­eral mem­bers and friends of AZ's hack­er­spaces (LCD, alt­Lab and xDA) will be demo­ing their 3D print­ers and CNC mills. If you have any kind of dig­i­tal fabricator—finished, unfin­ished, bro­ken or so and so—bring it along. Or just bring your­self, your friends, your fam­ily (this is a chil­dren-friendly event). As in any other bar­camp-style event, the atten­dees are also the speak­ers, so every­one is encour­aged to give talks, start debates, demo their projects, lead work­shops, what­ever suits their fancy.
Participation is free. Please register here.
Fab­ri­cul­ture is an AZ Labs Net­work project ded­i­cated to pro­mot­ing open source dig­i­tal fab­ri­ca­tion and maker cul­ture in gen­eral. Learn more about Fab­ri­Cul­ture here.
For those new to the dig­i­tal fab­ri­ca­tion rev­o­lu­tion make sure to also check out the beau­ti­ful Nueve Ojos Full Printed ani­ma­tion and Schuyler St. Ledger's Ignite Phoenix pre­sen­ta­tion for a quick overview.