by Mauri­cio Mar­tins, Tiago Rorke, Fil­ipe Cruz, Tiago Farto and Fer­di­nand Meier
Nuclear Taco Sen­sor Hel­met Gameshow is the name of our project entry for the 48h hack project of Sapo Codeb­its 2011. The aim of the com­pe­ti­tion was to develop a project dur­ing 48 hours and present it in 90 sec­onds to a live audi­ence. Out of over 80 pro­posed projects, 65 were pre­sented live.
We won the 1st place of the pub­lic vot­ing.
Abstract
The 48h project con­sisted of build­ing a hel­met device with humid­ity, tem­per­a­ture and fluid intake sen­sors, used to record and mea­sure the reac­tion of nuclear taco vic­tims of Codeb­its 2011 Nuclear Taco Chal­lenge. The sen­sors and ser­vos are con­nected by Arduino. 6 time­lapse videos were recorded doc­u­ment­ing the user expe­ri­ence. The 1:30 project pre­sen­ta­tion was in the style of a Japan­ese gameshow using Open­Frame­works. The host dis­played using face sub­sti­tu­ion tech­nol­ogy in real­time.
Motivation
Our moti­va­tion to develop this project was the fol­low­ing:
Do some­thing fun with sen­sors and Arduino, that would show peo­ple how easy it is to use these things.
Show­case appli­ca­tions of recent Face Track­ing and Face Sub­sti­tu­tion tech­nol­ogy.
Do a pre­sen­ta­tion for­mat that would not leave any­one indif­fer­ent to our project.
Bring atten­tion to the cre­ative com­mu­nity we have in the Audiên­cia Zero hacker spaces in Por­tu­gal (

LCD

in Porto / Guimarães, xDA in Coim­bra, alt­Lab in Lis­bon), in hopes of get­ting new mem­bers.
Take home some new hard­ware.
Video of Presentation

Nuclear Tacos Sen­sor Hel­met Gameshow @Codebits 2011 from alt­lab Lisbon's Hack­er­space on Vimeo.
Before Codebits
Concept
At Sapo Codeb­its 2010 the event orga­niz­ers held a nuclear taco chal­lenge dur­ing one of the nights of the event. Many brave atten­dees spent their last day of the event in severe dis­com­fort, curs­ing their ide­al­ized brav­ery. No mem­bers of our team were brave enough to take on the nuclear taco chal­lenge but the mem­o­ries of every­one else suf­fer­ing lin­gered on with us. Then one day a light­bulb was turned on inside Mauri­cio Mar­tins's head when he saw a tv com­er­cial for MEO fea­tur­ing Ricardo Araujo and an "all Amer­i­can" beer hel­met.
The idea Mauri­cio had awaken inside his head was to use his Arduino and sen­sors exper­tise to pimp that beer hel­met into a nuclear taco sen­sor device of some sort. He began look­ing for the pieces required.
By the way, if you want to learn how to use Arduinos for ran­dom projects, there are some work­shops at alt­Lab on a reg­u­lar basis.
Hardware
The hel­met itself was quite hard to find for sale in Por­tu­gal. After many searches on the inter­net, we ended up buy­ing it at epia.com for 10 euros.
The Arduino, LEDs, tem­per­a­ture and humid­ity sen­sor were eas­ily acquired any­where online. The flow mea­sure­ment sen­sor was alot harder to find, we ended up buy­ing it sec­ond hand from ebay.
The web­cam for the head mounted view used was a Microsoft Life­Cam VX-2000 bought by 20 euros.
Over­all the hard­ware cost was around 60 euros.
Brainstorm
While Mauri­cio was search­ing for the hel­met he recruited two new mem­bers for our team. To assist with the hard­ware the Luso — New Zealandinsh Tiago Rorke, a semi-reg­u­lar alt­Lab atten­der. And to han­dle the pre­sen­ta­tion for­mat, the Por­tuguese demoscener emi­grated in Helsinki, Fin­land Fil­ipe Cruz, who had already col­lab­o­rated with Mauri­cio on a Codeb­its project in 2010 (the Blind Pong project).
A cou­ple of weeks before the event, Mauri­cio and Tiago Rorke got together to write a first abstract descrip­tion of the project, do some sketches of the ide­al­ized hel­met and sent the text to Fil­ipe. Few days later the three of them had a skype call to define the pre­sen­ta­tion for­mat and hear Fil­ipe explain his con­cept idea of hav­ing a japan­ese gameshow style of pre­sent­ing the project to the pub­lic.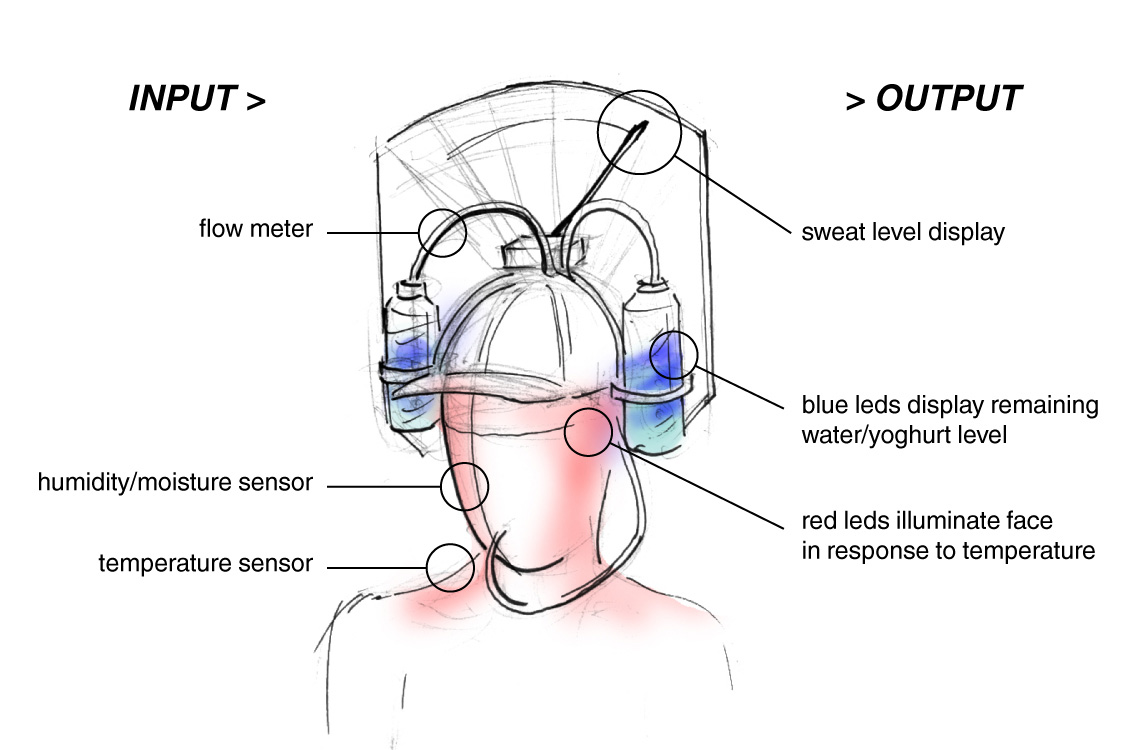 A cou­ple days before the event the three mem­bers of the team finally man­aged to get together phys­i­cally to dis­cuss the project in per­son. Tak­ing the opor­tu­nity to test some com­po­nents (the sen­sors, the Face­Track­ing library by Arturo Cas­tro, Kyle McDon­ald and Jason Saragih) and more impor­tantly: to decide on a final name for the project. Nuclear Taco Sen­sor Hel­met Gameshow was the deci­sion.
During Codebits
Thursday
Mauri­cio and Tiago Rorke spent the day work­ing on the hel­met, mostly build­ing and test­ing the sen­sors with the Arduino and decid­ing on how they would be placed on the hel­met. Fer­di­nand Meier, a res­i­dent mem­ber of alt­Lab was recruited to help print­ing small pieces for the hel­met with the Maker­bot.
Fil­ipe arrived late and started work­ing ime­di­atly on the frame­work for the pre­sen­ta­tion usingOpen­Frame­works, mostly test­ing back­ground effects in a Japan­ese swish swash style and try­ing to close the pre­sen­ta­tion sto­ry­board. Fer­di­nand who was already a new mem­ber of the project at this point offered his Blender skills to cre­ate a model of the hel­met in 3D to be used in the pre­sen­ta­tion.
While the hard­ware guys were strug­gling with the sen­sors, Fil­ipe was test­ing ofx3D­Mod­el­Loader with Ferdinand's 3D model exports of the hel­met. Sev­eral 2D ren­ders of Japan­ese vir­tual idol Hat­sune Miku mod­el­ling our hel­met were also taken. The open source 3D model of Miku was taken from blender­na­tion. We had to rush this process since Ferd had to leave the Codeb­its event that night to attend a con­fer­ence in Porto.
We did not attend the Ele­va­tor Pitch talk.
Tiago Farto was recruited to help with the graphic effects of the pre­sen­ta­tion. The back­ground effects you see are all run­ning on pix­elshaders real­time under open­frame­works. It was not triv­ial to get the shaders setU­ni­form to han­dle tex­tures prop­erly under open­Frame­works. We spent quite a few hours debug­ging and wild guess­ing their frame­work since nei­ther Fil­ipe nor Tiago had expe­ri­ence run­ning shaders on open­Frame­works.
Dur­ing the night we were one of the few teams still left hard at work at the par­ty­place at 3 am. Mauri­cio and Tiago Rorke fin­ish­ing the hel­met — test­ing the liq­uid flow sen­sor, build­ing the ser­vos, glu­ing the led struc­tures, paint­ing the hel­met.
Friday
We didn't man­age to sleep much on the first night of the event, some of us were falling asleep on our com­put­ers while still try­ing to get some work done. We started hav­ing to turn down folks who were com­ing to ask us to print ran­dom things on the maker­bot. We sadly had to do this because we were so busy fin­ish­ing the project for the com­pe­ti­tion. The hel­met needed to be fin­ished and ready for the codeb­its nuclear taco chal­lenge which was hap­pen­ing at 19:00.
Mauri­cio and Tiago fin­ished the hel­met, attached the head cam­era and went to the Taco Chal­lenge area to record some footage. Tiago worked on the title screen flames effect while Fil­ipe re-struc­tured the frame­work and tested the video play­back right before hav­ing to head out to give his speaker talk "Crash course on Phone­gap + Sen­cha Touch".
Mauri­cio and both Tia­gos went to the taco lounge and man­aged to record footage from 6 vol­un­teers wear­ing our hel­met while eat­ing their nuclear tacos. Big thanks to Pedro Umbe­lino, Daniel Fre­itas, Pedro Silva, Tomé Duarte, Joana Fer­reira and Artur Goulão for their assis­tance! We ended up only using 4 of the 6 videos.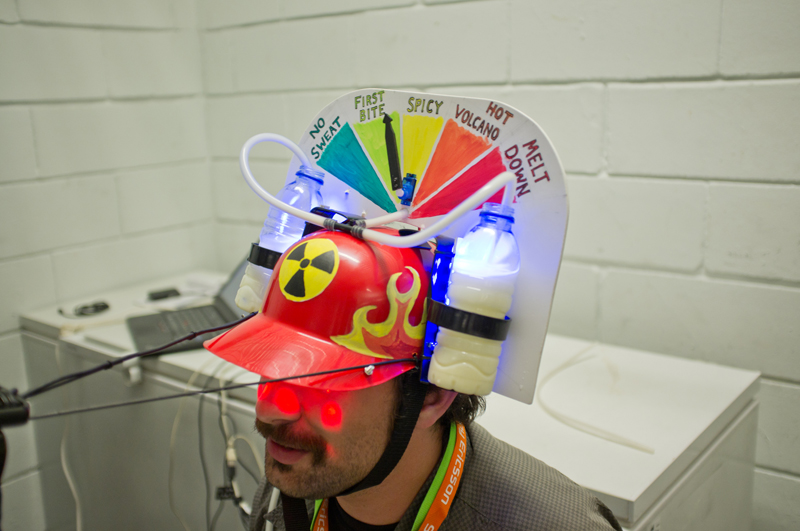 Photo by Nuno Dan­tas
Mean­while, back at the alt­Lab table Fil­ipe had ended his speaker talk and was back to work on the pre­sen­ta­tion code with some inter­rup­tions to try and find out where the con­fes­sion­ary room where we were sup­posed to present our project 1 hour ago was located. He failed. Noti­fied Mauri­cio and decided to attend the speak­ers din­ner instead.
Upon return, Fil­ipe man­aged to find where the con­fes­sion­ary room was located while the rest of the project folks attended the Scor­pi­ons con­cert. We finally man­aged to get skype inter­viewed by chew­bacca and darth vader. It went rather well and we were hope­ful that our project would get selected for the group A of projects pre­sent­ing live on stage.
The rest of the night was spent edit­ing video and find­ing the per­fect Japan­ese face to use on the Face­Track­ing part of the pre­sen­ta­tion. Shido Naka­mura was the final selec­tion. Fil­ipe had some night­mares about for­get­ting what to say live on stage and screw­ing up the Japan­ese accent. Tiago Rorke ended up work­ing another all nighter doing some video edit­ing and draw­ing a 2d taco for the pre­sen­ta­tion.
By the way, the music we used for the final part is ParagonX9 — Chaoz Air­flow, avail­able under a Cre­ative Com­mons by-nc-sa license. And the short clip of Japan­ese crowd cheer­ing was snipped from a ran­dom youtube video of a ran­dom Japan­ese gameshow which we can't find any­more.
Saturday
We all woke up later then planned and feel­ing some­what sick and tired of work­ing on the project. But one final effort was still needed, the pre­sen­ta­tion had to be per­fect!
We did a few iter­a­tions of the final chal­lenge video, adding sound effects and test­ing the length. The sto­ry­board still suf­fered a few small changes to cre­ate big­ger crescendo impact. Last minute over­lay graph­ics of the sen­sors were designed by Tiago Farto and quickly inserted.
Test on the stage proved the face­track­ing could work with­out addi­tional light­ing. Every­thing seemed more or less ready. Just one more ren­der of the final video with some more small impor­tant changes required.
Pre­sen­ta­tion had some glitches but went rather well. The crowd man­aged to get into it and that was reflected heav­ily on the vot­ing. Great pos­i­tive reac­tions both in per­son and through the twit­ter feed. We were very pleased and look­ing for­ward to the prize giv­ing. Tiago Farto had to leave early and Ferd never man­aged to come back to Codeb­its since Thurs­day, so we were left only 3 of us, Mauri­cio Mar­tins, Fil­ipe Cruz and Tiago Rorke to col­lect the prizes!
We won the 1st place pub­lic award and offered the sen­sor hel­met device to the Codeb­its orga­niz­ers inform­ing them that all the peo­ple involved with orga­niz­ing the Nuclear Taco Chal­lenge had to take pic­tures of them­selfs wear­ing the hel­met and upload them to the inter­net.
Conclusions
Domo Ari­gato to every­one for your feed­back and sup­port. We are very happy you liked our project. Please come and join alt­Lab or another Audi­en­cia Zero hack­lab closer to you. We need more peo­ple shar­ing knowl­edge and doing things with tech­nol­ogy.
Source Code
Source code github repo.
Support
If you liked our project, please flattr it to sup­port our hacker space labs.