FabriCamp Lx1: The Report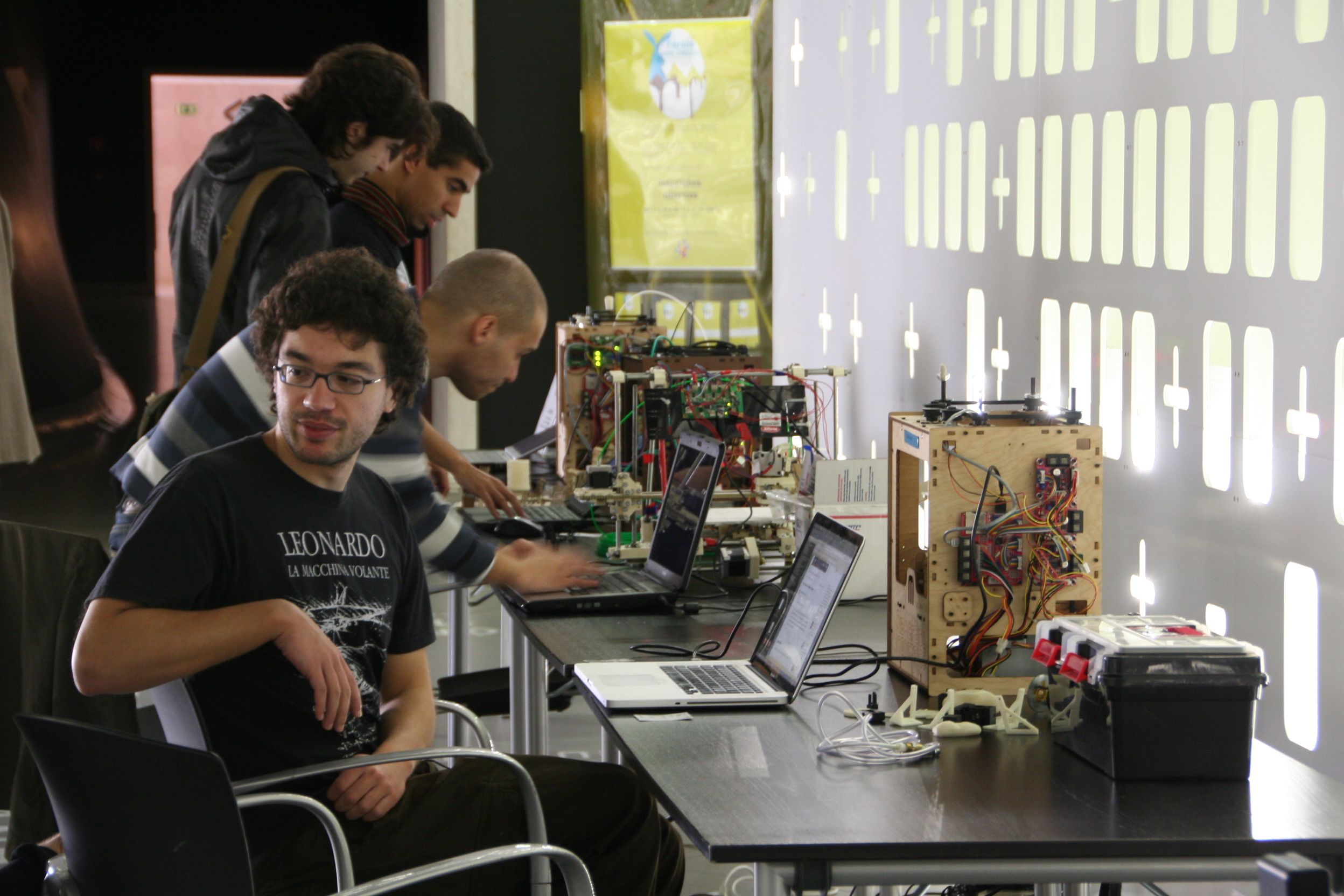 [PT] O Fabri­Camp Lx1 foi exce­lente. Muito obri­gado a todos os par­ti­ci­pan­tes, ora­do­res e ope­ra­do­res de máqui­nas, pelo dia tão diver­tido que nos pro­por­ci­o­na­ram. Obri­gado tam­bém ao Pavi­lhão do Conhe­ci­mento e a Ciên­cia Viva, por tão calo­roso e pres­tá­vel aco­lhi­mento – mais do que isto não podía­mos pedir.
[EN] Fabri­Camp Lx1 was great. Many thanks to all the par­ti­ci­pants, spe­a­kers and machine ope­ra­tors for making it such a fun day. Thank you also to Pavi­lhão do Conhe­ci­mento and Ciên­cia Viva for being the most wel­co­ming and help­ful hosts we could wish for.
[PT] Par­ti­ci­pa­ram no Fabri­Camp cerca de 130 pes­soas, e durante todo o dia, sem uma falha­zi­nha que fosse, as máqui­nas de fabri­ca­ção digi­tal impri­mi­ram em 3D e fre­sa­ram. E a ver­dade é que alguns mem­bros do altLab con­se­gui­ram fazer pro­gres­sos numa mini-Mendel modi­fi­cada e repa­rar logo ali a Maker­Bot da Facul­dade de Arquitectura.
[EN] Around 130 peo­ple par­ti­ci­pa­ted and the digi­tal fabri­ca­tion machi­nes 3D prin­ted, fros­tru­ded and mil­led all day without a glitch. In fact, some altLab mem­bers even mana­ged to make some pro­gress on a modi­fied mini Men­del and to fix the Col­lege of Architecture's Maker­Bot on the spot.
[PT] As pales­tras foram dos momen­tos altos do evento.
Os mem­bros da direc­ção da AZ Labs Network – Ricardo Lobo, Pedro Ângelo, Tiago Serra, Cata­rina Mota e eu pró­prio –, fala­ram da orga­ni­za­ção, dos três labo­ra­tó­rios, da Fabri­Cul­ture e de novos pro­jec­tos empol­gan­tes, como as Resi­dên­cias AZ e a nossa par­ti­ci­pa­ção na Gui­ma­rães – Capi­tal Euro­peia da Cul­tura 2012.
Filipe Mar­tins tem um mes­trado em Design de Pro­du­tos em Bio­po­lí­me­ros e tem vindo a explo­rar a sus­ten­ta­bi­li­dade em pro­ces­sos, tec­no­lo­gias e mate­ri­ais. Deu uma pales­tra inti­tu­lada "Design para Auto­no­mia Mate­rial", onde tra­tou de pro­ces­sos para cri­ar­mos os nos­sos pró­prios mate­ri­ais de fabri­ca­ção, e de for­mas para depois os tra­tar­mos, no fim do ciclo de vida dos produtos.
Tiago Rorke é for­mado em Design Indus­trial e, com Greg Saul, criou o Dia­tom Stu­dio (dedi­cado a explo­rar as pos­si­bi­li­dade da fabri­ca­ção digi­tal, para dar aos uti­li­za­do­res finais um papel no pro­cesso de design). Falou sobre a Sket­ch­Chair, um sis­tema em desen­vol­vi­mento para criar uma fer­ra­menta de soft­ware livre, open source, com que qual­quer pes­soa poderá facil­mente dese­nhar e cons­truir mobi­liá­rio de fabri­ca­ção digital.
Vasco Por­tu­gal, que no âmbito da sua tese de dou­to­ra­mento no pro­grama MIT|Portugal tem explo­rado for­mas de alcan­çar um desen­vol­vi­mento sus­ten­tá­vel, falou sobre as ori­gens e a evo­lu­ção dos FabLabs, e tam­bém do pro­jecto que tem em curso – um "sis­tema gerador-de-formas-arquitectónicas para enge­nha­ria de areia atra­vés de cimen­ta­ção indu­zida por via microbiológica".
Mais infor­ma­ções sobre as pales­tras, aqui. E mui­tas fotos, aqui:
http://www.facebook.com
http://www.flickr.com
Pho­tos by Paulo Rodri­gues and Tiago Serra
[EN] The talks were some of the best moments of the event.
Mem­bers of the AZ Labs Network board of direc­tors Ricardo Lobo, Pedro Ângelo, Tiago Serra, Cata­rina Mota and myself tal­ked about the orga­ni­za­tion, the three labs, Fabri­Cul­ture and a few new and exci­ting pro­jects such as the AZ Resi­dency and our par­ti­ci­pa­tion in Gui­ma­rães Capi­tal of Culture.
Filipe Mar­tins, who has an MS in Pro­duct Design in Bio­poly­mers and has been explo­ring sus­tai­na­bi­lity in pro­ces­ses, tech­no­lo­gies and mate­ri­als, gave a talk titled Design for Mate­rial Auto­nomy focu­sed on pro­ces­ses to cre­ate your own fabri­ca­tion mate­ri­als as well as dis­pose of them at the end of a product's life cycle.
Tiago Rorke, who has a degree in indus­trial design and together with Greg Saul for­med Dia­tom Stu­dio (with the goal of explo­ring the pos­si­bi­li­ties of digi­tal fabri­ca­tion to give end users a role in the design pro­cess), tal­ked about Sket­ch­Chair, a work-in-progress sys­tem to cre­ate a free, open-source soft­ware tool that will allow anyone to easily design and build their own digi­tally fabri­ca­ted furniture.
Vasco Por­tu­gal, who is explo­ring ways to achi­eve sus­tai­na­ble deve­lop­ment while wor­king on his PhD the­sis at the MIT|Portugal Pro­gram, tal­ked about the ori­gins and evo­lu­tion of Fab Labs as well his work-in-progress pro­ject "architectural-form-generator sys­tem to engi­neer sand through micro­bi­ally indu­ced cementation."
More details about each of the talks here. And lots of pho­tos here:
http://www.facebook.com
http://www.flickr.com
Pho­tos by Paulo Rodri­gues and Tiago Serra
[PT] Uma vez que se tra­tou do nosso pri­meiro Fabri­Camp, apren­de­mos coi­sas impor­tan­tes para melho­rar os encon­tros futu­ros. Se algum par­ti­ci­pante tiver pro­pos­tas para alte­ra­ções e melho­rias que nos queira apre­sen­tar, pode usar a caixa de comen­tá­rios aqui abaixo. O Fabri­Camp Porto e o Fabri­Camp Coim­bra serão pro­va­vel­mente os pró­xi­mos, mas quem não viver em nenhuma des­tas cida­des e qui­ser orga­ni­zar um Fabri­Camp, informe-nos da inten­ção, que nós dare­mos toda a ajuda que esti­ver ao nosso alcance.
Por fim, gos­ta­ría­mos de agra­de­cer a todos os ele­men­tos da grande equipa que aju­dou a pôr em pé este evento: Os mem­bros da AZ Labs Network e a toda a equipa do Pavi­lhão do Conhecimento.
[EN] Since this was our first Fabri­Camp we also lear­ned some impor­tant les­sons on how to make future gathe­rings bet­ter. If any of the par­ti­ci­pants have sug­ges­ti­ons for chan­ges and impro­ve­ments, ple­ase use the com­ments form below to tell us about your ideas. Fabri­Camp Porto and Fabri­Camp Coim­bra will likely be next, but if you don't live in any of these cities and would like to host one, let us know, we will pro­vide you with all the assis­tance we can.
Finally, we must thank all the ele­ments of the great team that hel­ped put this event together: AZ Labs Network mem­bers and the Pavi­lhão do Conhe­ci­mento team.
---
---