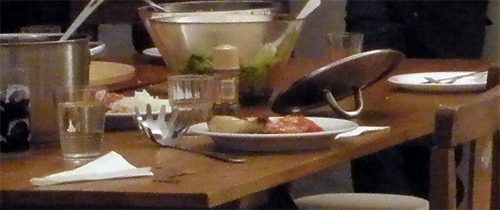 Feed­ing 15 sleep deprived hack­ers is not an easy task and dur­ing the AZ Res­i­dency only 3 peo­ple were brave enough to put their culi­nary tal­ents to the test: Joel, Vitor and Mar­i­ana. Every­one agreed that their home­made meals were awe­some and no bug reports were filed. Since we believe in shar­ing, here are Joel's deli­cious open source recipes (in french comme il faut):
Salad Dress­ing [ VO ]
4 cuil­lère à soupe d'huile d'olive
3 cuil­lère à soupe de vinai­gre bal­samique
2 cuil­lère à café de miel
sel
poivre
Goûter et ajuster : si trop sucré, ajouter du vinai­gre / si trop amer, ajouter du miel.
Bask Chicken [ VO ]
Prévoir un bon morceau de poulet pour cha­cun des invités
Poivron
Tomate
Sauce tomate
Oignon
sel
poivre
Eau