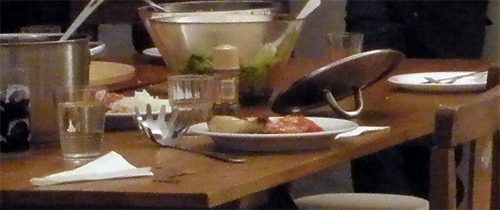 Feed­ing 15 sleep deprived hack­ers is not an easy task and dur­ing the AZ Res­i­dency only 3 peo­ple were brave enough to put their culi­nary tal­ents to the test: Joel, Vitor and Mar­i­ana. Every­one agreed that their home­made meals were awe­some and no bug reports were filed. Since we believe in shar­ing, here are Joel's deli­cious open source recipes (in french comme il faut):
Salad Dress­ing [ VO ]
4 cuil­lère à soupe d'huile d'olive
3 cuil­lère à soupe de vinai­gre bal­samique
2 cuil­lère à café de miel
sel
poivre
Goûter et ajuster : si trop sucré, ajouter du vinai­gre / si trop amer, ajouter du miel.
Bask Chicken [ VO ]
Prévoir un bon morceau de poulet pour cha­cun des invités
Poivron
Tomate
Sauce tomate
Oignon
sel
poivre
Eau

Faire cuire et dorer le poulet dans une poêle avec du sel et du poivre.
Faire revenir les oignons et le poivron dans une autre poele sans les bruler avec de l'huile d'olive.
Pren­dre une grande casse­role.
Y met­tre des tomates grossière­ment coupées, les oignons et les poivrons pré-cuits avec de l'huile d'olive.
Faire mijoter une dizaine de min­utes.
Rajouter le poulet.
Laisser mijoter en prenant soin de recou­vrir le poulet de sauce. Remuer de temps en temps.
Servir avec du riz.
Thanks Joel!