Posts tagged
research
Leo­nardo has been wor­king on a laser-head RepRap for some time. His latest expe­ri­ment was etching a PCB with it. Above is the video of the first tests, but go on over to his blog to check out all the details.
(scroll down for english)
A Audi­ên­cia Zero vai rea­li­zar uma resi­dên­cia artís­tica mul­ti­dis­ci­pli­nar com os seus três labo­ra­tó­rios (AltLab, LCD, xDA) no O Espaço do Tempo (Montemor-o-Novo) no período entre 01 e 07 de Março e 14 e 23 de Junho. A apre­sen­ta­ção dos tra­ba­lhos pro­du­zi­dos na resi­dên­cia será feita entre 12 e 25 de Julho. A resi­dên­cia é antes de mais des­ti­nada aos actu­ais mem­bros dos labo­ra­tó­rios, mas está pre­vista a par­ti­ci­pa­ção de ele­men­tos exter­nos no caso des­tes apre­sen­ta­rem pro­pos­tas de tra­ba­lho con­sis­ten­tes e inte­res­san­tes. Mais infor­ma­ções e ins­cri­ções no fim desta página…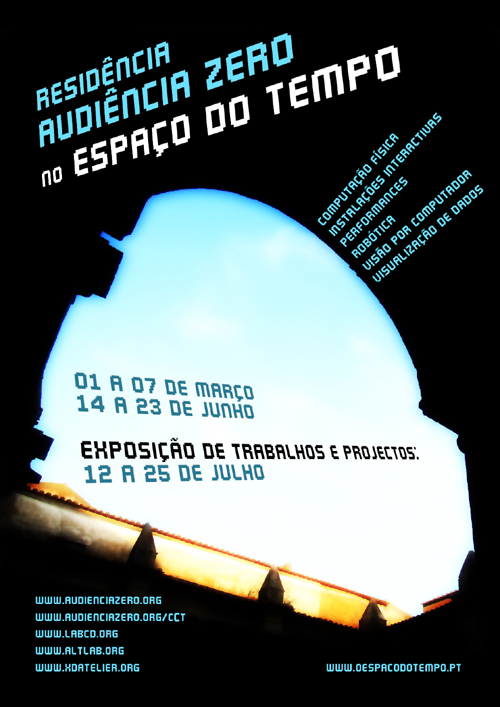 Os inte­res­sa­dos na resi­dên­cia devem mani­fes­tar o seu inte­resse e inscreverem-se com a maior bre­vi­dade pos­sí­vel (fim da página) para garan­tir lugar. A orga­ni­za­ção entrará em con­tacto para dar segui­mento à inscrição.
Quando soli­ci­ta­dos pela orga­ni­za­ção os par­ti­ci­pan­tes devem indi­car se têm um pro­jecto em mente para desen­vol­ver ou acti­vi­dade a pro­por. Quanto mais cla­ros forem os pro­jec­tos e as acti­vi­da­des, assim como os pápeis a desem­pe­nhar por cada um dos ele­men­tos das equi­pas cons­ti­tuí­das ou a cons­ti­tuir, maior é a pro­ba­li­dade da acti­vi­dade ou pro­jecto de ser inte­grada na residência.
As vagas na resi­dên­cia estão limi­ta­das a 15, com direito a alo­ja­mento e uma refei­ção diá­ria. No caso de exis­ti­rem mais do que 15 par­ti­ci­pan­tes ter-se-á que esco­lher os pro­jec­tos mais inte­res­san­tes res­pei­tando os seguin­tes cri­té­rios de selec­ção: cri­a­ti­vi­dade, tec­no­lo­gias envol­vi­das, via­bi­li­dade e tempo.
Após o peri­odo de ins­cri­ções, serão ava­li­a­dos as apli­ca­ções pelos orga­ni­za­do­res e defi­ni­dos os artis­tas resi­den­tes. Ini­ci­a­re­mos a dis­cus­são dos pro­jec­tos / acti­vi­da­des e defi­ni­ção da temática.
Exem­plos Acti­vi­da­des:
. Workshops
. Pales­tras
. Demonstrações
Exem­plos de Áreas de Pro­jecto:
. Elec­tró­nica e Com­pu­ta­ção Física
. Ins­ta­la­ções Inte­rac­ti­vas
. Per­for­mance
. Robó­tica
. Visão por Com­pu­ta­dor
. Visu­a­li­za­ção de Dados
—-
Audi­ên­cia Zero will hold a mul­ti­dis­ci­pli­nary artist resi­dency with its three labo­ra­to­ries (altlab, LCD, xDA) in O Espaço do Tempo (Montemor-o-Novo) in the period between 01 and 07 March and 14 and 23 June. The pro­jects pro­du­ced will be shown between 12 and 25 July. The resi­dence is pri­ma­rily inten­ded for the cur­rent mem­bers of this labo­ra­to­ries, but par­ti­ci­pa­tion of exter­nal ele­ments is accep­ted where pro­po­sals are con­sis­tent and inte­res­ting. More infor­ma­tion and regis­tra­tion at the end of this page …
Those inte­res­ted in resi­dence should express their inte­rest and enroll as soon as pos­si­ble (end of page) to secure a place. The orga­ni­za­tion will con­tact you to fol­low up the application.
When asked by the orga­ni­za­tion par­ti­ci­pants must indi­cate whether they have a pro­ject in mind to deve­lop or an acti­vity to pro­pose. The cle­a­rer the pro­jects and acti­vi­ties, as well as the roles played by each ele­ment of a team, the gre­a­ter the like­lihood of the acti­vity or pro­ject to be inte­gra­ted into the residence.
Vacan­cies in the resi­dence are limi­ted to 15, with the right accom­mo­da­tion and a daily meal. If there are more than 15 par­ti­ci­pants, the orga­ni­za­tion we'll have to cho­ose the most inte­res­ting pro­jects addres­sing the fol­lowing selec­tion cri­te­ria: cre­a­ti­vity, tech­no­lo­gies invol­ved, fea­si­bi­lity and time.
After the regis­tra­tion period, appli­ca­ti­ons will be asses­sed by the orga­ni­zers and esta­blished resi­dent artists. We will begin the dis­cus­sion of pro­jects / acti­vi­ties and define the resi­dency theme.
Sam­ple Acti­vi­ties:
. Workshops
. Lec­tu­res
. Demos
Pro­ject theme exam­ples:
. Elec­tro­nics and Phy­si­cal Com­pu­ting
. Inte­rac­tive Ins­tal­la­ti­ons
. Per­for­mance
. Robo­tics
. Com­pu­ter Vision
. Data Visualization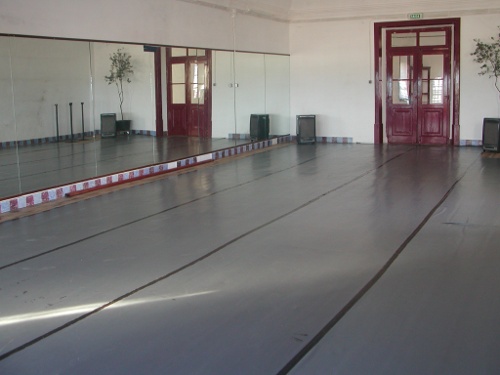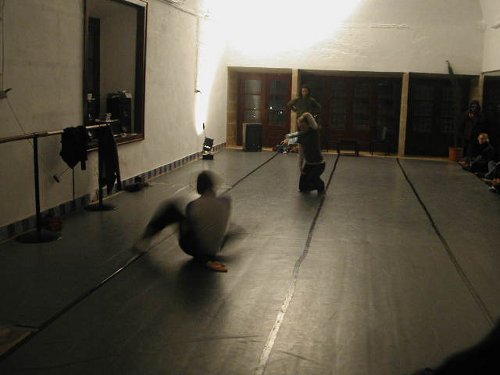 Orga­ni­za­ção: Gui­lherme Mar­tins, Ricardo Lobo e Tiago Serra.
http://www.altlab.org
http://www.labcd.org
http://www.xdatelier.org
http://www.oespacodotempo.pt
Resi­dên­cia AZ no Espaço do Tempo
1ª Edição
For­ma­dor: Audi­ên­cia Zero
Coor­de­na­dor: Audi­ên­cia Zero
Datas: 1 a 7 Março; 14 a 23 Junho; 12 a 25 Julho
Horá­rio: Todo Dia
Local: O Espaço do Tempo (Montemor-o-Novo)
Preço: 0 euros
Estado: Aber­tas as Inscrições