Posts tagged
cardboard
This is a fully functional version of the Arduino. We eliminated the PCB and use paper and cardboard as support and the result is.. the PAPERduino :D
This is the the first version of the layout design, next we will try more designs, and other materials. You just need to print the top and the bottom layouts, and glue them to any kind of support you want. We hope that you start making your own boards. If you do, please share your photos with us, we would love to see them ;)
There is no USB direct connection, so to program the paperduino you will need some kind of FTDI cable or adapter. One of this products will be fine:
FTDI cable from Adafruit Industries
FTDI adapter from Sparkfun
Components list:
1 x 7805 Voltage regulator
2 x LEDs (different colors)
2 x 560 Ohm resistors (between 220oHm and 1K)
1 x 10k Ohm resistor
2 x 100 uF capacitors
1x 16 MHz clock crystal
2 x 22 pF capacitors
1 x 0.01 uF capacitor
1 x button
1 x Atmel ATMega168
1 x socket 28 pin
Female and Male headers
Instructions:
Use a needle to puncture the holes for your components.
Don't rush, place one component after another and do all the solder work carefully.
Follow the connection lines.
And this should be the final look of your paperduino connections.


My dear friend Kisty Boyle and I recently launched openMaterials – a collaborative research project dedicated to open investigation and experimentation with DIY production methods and uses of materials. In the spirit of the open source software and hardware movements, we hope to promote materials to be researched and developed in a public, collaborative manner. We see materials as an open resource, and wish to establish an open process for exploring and sharing knowledge, techniques and applications related to materials science.
I'll be conducting most of my hands-on research right here at AltLab. We'd love for you to be involved if you are working in these areas or interested in learning more about smart materials.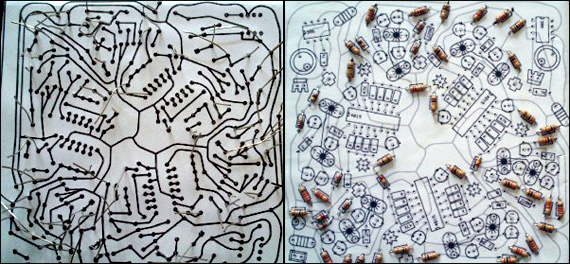 A couple of years ago i found out on the "internets" that you don't really need a protoboard or a circuit board to make your circuits come to life, the idea was to fold a piece of paper with the circuit design in it (component side and circuit diagram side) and then inserting a piece of cardboard in the middle.
The main idea was the eco, recycled "thingy" since circuit boards are not so eco friendly and take a bunch of time to get recycled by our mother earth, also the economic side (paper and cardboard are almost free), instead circuit boarding takes a long time and it's hazardous for the environment.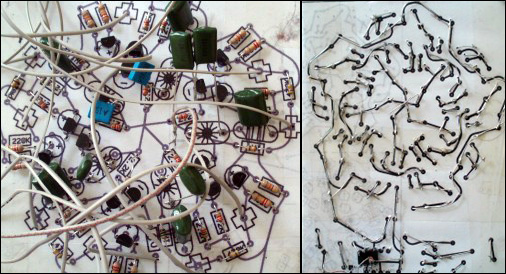 So here's what i do :
1- print the schematic you want (be sure to include on the sheet of paper both sides of the schematic (component side and schematic)
2-fold it (the idea is to fold where the component side meets the schematic)
3-cut a piece of cardboard and insert it in the middle of the sheet of paper
4-glue both sides on to the cardboard (now you must have a beautifull circuit board made of cardboard)
5-with a needle pierce (component side) all drilling holes into schematic side
6-insert the components (resistors, ic, capacitator etc..)
7-turn it back (schematic side) and start to solder (be sure to folow the traces on the paper), the best way to do this is to simply bend the leads of the components and solder them together, if you have a large area were the lead is not long enough just use a wire or something similar.
8-have fun