[PT]No último sábado, 5 de Feve­reiro, o altlab orga­ni­zou o Arduino Hack Day.
Par­ti­ci­pa­ram no evento perto de 40 pes­soas, entre entu­si­as­tas em elec­tró­nica, artis­tas, pro­gra­ma­do­res, arqui­tec­tos, fotó­gra­fos, ami­gos.
[EN]On Feb 5th altlab held its first Arduino Hack Day. Around 40 enthu­si­asts, artists, pro­gram­mers, archi­tects, pho­to­graphers and fri­ends par­ti­ci­pa­ted in the event.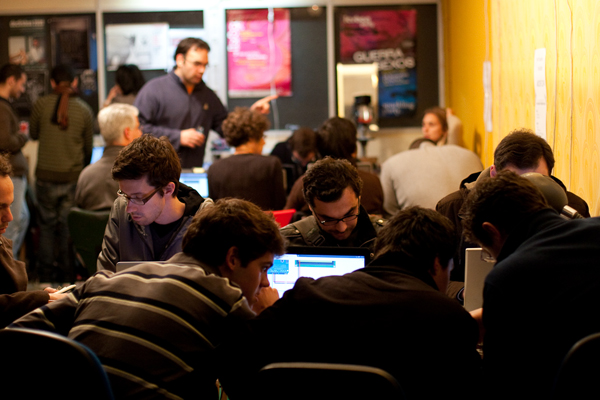 [PT]Para mui­tos, foi o pri­meiro con­tacto com o Arduino, a des­co­berta da sim­pli­ci­dade desta pla­ta­forma para o desen­vol­vi­mento de pro­jec­tos de com­pu­ta­ção física.
Dis­tri­buí­dos por qua­tro ban­ca­das, os par­ti­ci­pan­tes come­ça­ram a expe­ri­men­tar assim que che­ga­ram!
[EN]For many this was their first con­tact with the Arduino, dis­co­ve­ring the ease with which this plat­form can be used for the deve­lop­ment of phy­si­cal com­pu­ting pro­jects.
Assem­bled around work­ben­ches, par­ti­ci­pants star­ted expe­ri­men­ting as soon as they arri­ved!
[PT]Uma das ban­ca­das, dedi­cada ao tema Arduino, moto­res e a robó­tica, ficou por conta do Gui­lherme Mar­tins (Gui­bot). Nou­tra ban­cada, alguns prin­ci­pi­an­tes apren­diam a dar os pri­mei­ros pas­sos, com a ajuda de mem­bros do altlab.
[EN]One of the tables, dedi­ca­ted to Arduino, motors and robo­tics, was run by Gui­lherme Mar­tins (Gui­bot). Near by, at another table, some par­ti­ci­pants took their first steps with the help of altlab mem­bers.
[PT]Enquanto isso, a impres­sora 3D ("maker­bot") tra­zida pelo nosso con­vi­dado neo­ze­lan­dês, Tiago, ia impri­mindo as pri­mei­ras peças.
[EN]All the while, the Maker­Bot brought by our New Zele­and guest Tiago, was prin­ting some plas­tic parts for the pro­jects.
[PT]O Pedro Ângelo, do LCDLab, veio do Porto para nos aju­dar e res­sus­ci­tou um pro­jecto antigo do Mau­rí­cio, que depois de pronto gerou alguma diver­são…
[EN]O Pedro Ângelo, from LCDLab, came from Porto to help out and deci­ded to bring back to life an old pro­ject of Maurício's which imme­di­a­tely tur­ned into a lot of fun.…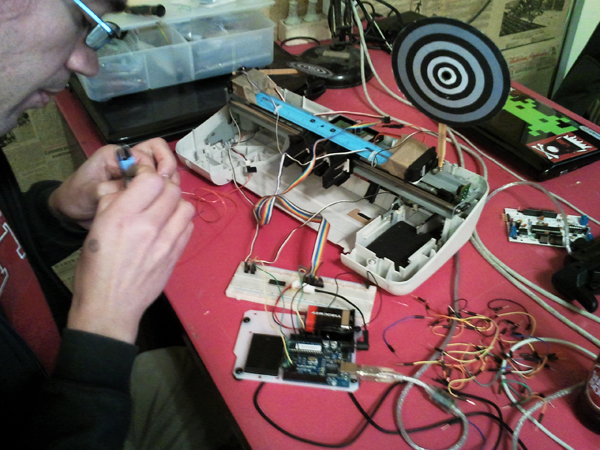 [PT]Logo depois do almoço come­ça­ram as apre­sen­ta­ções. A Mónica Men­des e o Mau­rí­cio Mar­tins deram a conhe­cer o colec­tivo altlab, o seu pas­sado, pre­sente e futuro. A Cheng Xu, tam­bém nossa con­vi­dada, apre­sen­tou-nos o See­e­duino Film. Por fim, o Gui­bot e o André, da Artica, fala­ram do Moto­ruino e do Far­rusco.
[EN]After lunch we had some pre­sen­ta­ti­ons. Mónica Men­des and Mau­rí­cio Mar­tins tal­ked about the past, pre­sent and future of altlab. Our guest Cheng Xu pre­sen­ted the See­duino film. Finally, Gui­bot and André from Artica tal­ked about the Moto­ruino and Far­rusco.
[PT]Pas­sa­das 10 horas de puro hac­king e muita cer­veja, o Arduino Hack Day che­gava ao fim, todos os par­ti­ci­pan­tes muito satis­fei­tos com a expe­ri­ên­cia. O altlab con­se­guiu con­cre­ti­zar o prin­ci­pal objec­tivo desta ini­ci­a­tiva: jun­tar pes­soas inte­res­sa­das em par­ti­lhar conhe­ci­men­tos sobre o Arduino, aju­dar quem nunca tinha desen­vol­vido nada com a pla­ta­forma e con­quis­tar novos inte­res­sa­dos em per­ten­cer a este colec­tivo fan­tás­tico!
[EN]After 10 hours of pure hac­king and lots of beer, the Arduino Hack Day came to an end, and everyone left with a smile on their faces. We were able to attain the main goals for this event: gather peo­ple inte­res­ted in sha­ring kno­wledge about the Arduino, help those who had never used the plat­form, and have seve­ral new mem­bers join our belo­ved col­lec­tive.
[PT]Por último, fica aqui um agra­de­ci­mento muito espe­cial aos mem­bros do altlab que con­tri­buí­ram na orga­ni­za­ção deste evento:
[EN]Finally, a word of spe­cial thanks to the altlab mem­bers who con­tri­bu­ted to making the Arduino Hack Day pos­si­ble:
Andre Almeida, Ferdi Meier, Gui­lherme Mar­tins, Leo­nardo Mar­ques, Manuel Alves, Mau­ri­cio Mar­tins, Mónica Men­des, Nuno João, Paulo Rodri­gues e Pedro Ângelo (LCD).
Some pho­tos by João Nogueira e Rita Car­va­lho.
Flickr Photo Set: http://tinyurl.com/6f7vhsx
English ver­sion soon!