After a well deser­ved hol­li­day, the altLab crew is back in the lab. We are still get­ting to know our new home, and it will still take a while for us to get com­ple­tely com­for­ta­ble, but some of us are alre­ady back to work on their pro­jects. Here's the play-by-play report of last Tuesday's session.
Luis wor­ked on his Hacky­Ra­cers pro­ject, trying to get it ready to show at the Lis­bon Maker Faire. He also put the finishing tou­ches on a small elec­tro­nics kit to teach kids about electronics.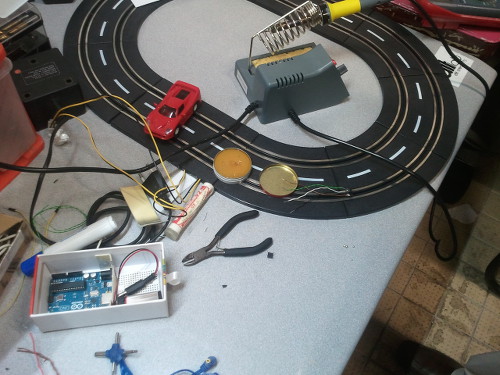 Fer­nando set out to improve the power con­sump­tion of our lab's RFID door lock to only turn on when some­one is actu­ally trying to use it. This week he dis­man­tled the door knob and mod­ded it to close a cir­cuit when the lever is pul­led, check it: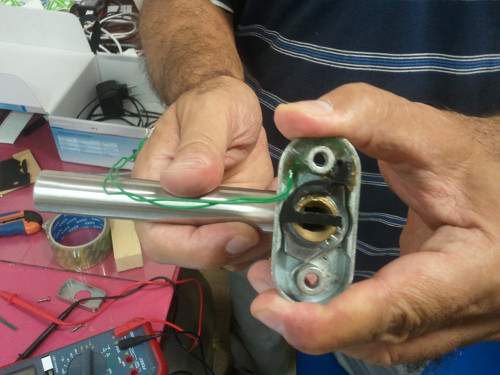 I went to the lab to etch some PCBs for a wire­less sen­sor kit that detects tree hugs :) Our usual toner trans­fer tech­ni­que wasn't wor­king pro­perly, as the glossy maga­zine paper wasn't stic­king to the cop­per plate when pas­sed under the lami­na­tor seve­ral times, so I took a tip from Fer­nando and used some mad iro­ning skills: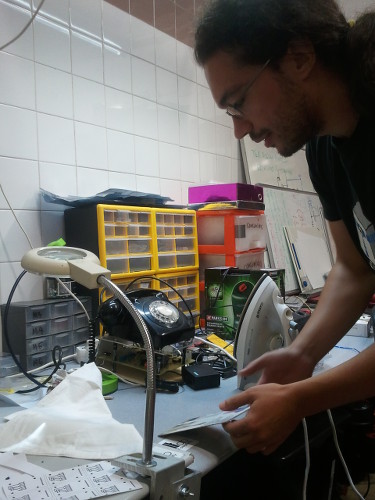 The results were great: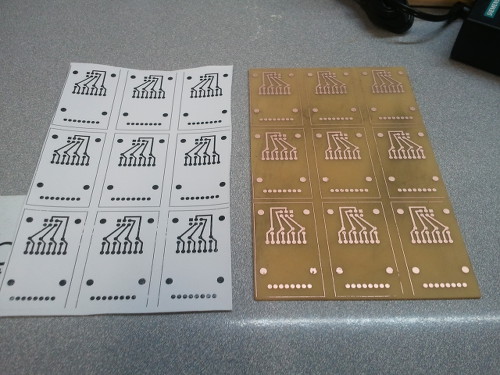 Next week will be hec­tic as we will be pre­pa­ring for the Maker Faire and set­ting up our new shel­ves to sort all our mate­ri­als and tools and make the new place a pro­per workshop.
See you next Tuesday!