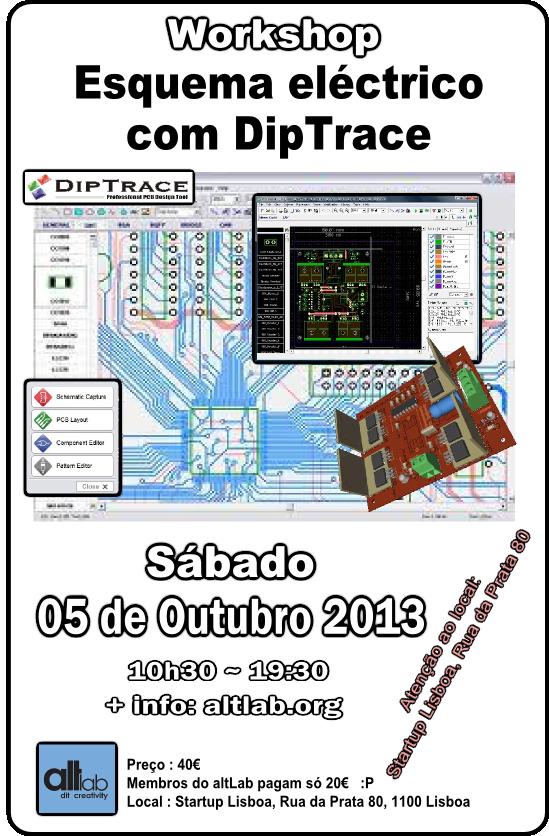 Workshop Esquema Eléctrico com DipTrace
Se já fizeste um esquema eléc­trico e ten­taste dese­nhá-lo num EDA (Elec­tro­nic Design Auto­ma­tion) como o famoso Eagle já sabes como pode ser fas­ti­di­oso, repe­ti­tivo e frus­trante!
Dá o salto para o mais intui­tivo dos paco­tes de dese­nho elec­tró­nico no mer­cado!
O Dip­Trace da Novarm é um soft­ware de EDA para a cri­a­ção de dia­gra­mas esque­má­ti­cos e pla­cas de cir­cuito impresso.
O que o Dip­Trace tem de dife­rente é ser super-intui­tivo de usar, ter uma curva de apren­di­za­gem muito suave e a sua uti­li­za­ção ser uma agra­dá­vel sur­presa. No entanto, tem potên­cia qb para os mais exi­gen­tes e fun­ções de sobra para os pro­fis­si­o­nais.
Na busca de solu­ções mais váli­das para os seus cli­en­tes, gran­des empre­sas de kits didác­ti­cos base­a­dos em micro­con­tro­la­do­res como a Paral­lax (BasicS­tamp) ou a Revo­lu­tion soft­ware (Picaxe) pre­fe­ri­ram o Dip­Trace ao Eagle para o desen­vol­vi­mento das suas pla­cas de cir­cuito impresso.
O Dip­Trace inclui os seguin­tes 6 módu­los:
— Sche­ma­tic Design Edi­tor
— PCB Layout Edi­tor
— Com­po­nent Edi­tor
— Pat­tern Edi­tor
— Shape-Based Auto­rou­ter
— 3D PCB Pre­view
Para hobis­tas o Dip­Trace tem um ver­são fre­eware com todas as fun­ci­o­na­li­da­des do pacote com­pleto, ape­nas limi­tada a 300 pinos e uso não-comer­cial. As cama­das de ali­men­ta­ção e terra (power and ground plane) não con­tam como cama­das de sinal, por isso as ver­sões gra­tui­tas podem criar pla­cas de 4 cama­das!
Para este workshop os par­ti­ci­pan­tes devem pos­suir conhe­ci­men­tos de esquema eléc­trico e de pre­fe­rên­cia já ter feito algums pro­jec­tos nou­tro soft­ware de dese­nho téc­nico como CAD ou EDA.
Os conhe­ci­men­tos de elec­tró­nica são dese­já­veis mas não fun­da­men­tais.
Con­cei­tos abor­da­dos
a) Intro­du­ção ao Esquema Eléc­trico e Elec­tró­nico
b) Os Módu­los do Dip­Trace
c) Cre­a­ting a sim­ple Sche­ma­tic and PCB:
— Esta­blishing a sche­ma­tic size and pla­cing titles
— Con­fi­gu­ring libra­ries
— Desig­ning a sche­ma­tic
— Con­ver­ting to a PCB
d) Desig­ning a PCB:
— Pre­pa­ring to route
— Auto­rou­ting
— Wor­king with layers
— Wor­king with vias
— Net Clas­ses
— Manual Rou­ting
— Mea­su­ring trace length
— Selec­ting objects by type/layer
— Pla­cing Text and Graphics
— Cop­per Pour
— Loc­king objects
— Design Veri­fi­ca­tion
— Design Infor­ma­tion
— Pane­li­zing
— Prin­ting
Vem apren­der fazendo! O ambi­ente é téc­nico mas numa prác­tica des­con­traída típica do altLab!
Podem obter o Dip­Trace em [http://www.diptrace.com/download.php]
Este work­shop será ori­en­tado por mem­bros do altLab.
Ins­cri­ções : AQUI (a ins­cri­ção on-line é obri­ga­tó­ria)
Preço : 40€. Mem­bros do altLab só pagam 20€ ;p
Local : Star­tup Lis­boa (Rua da Prata 80, 1100 Lis­boa)
Cá te espe­ra­mos!