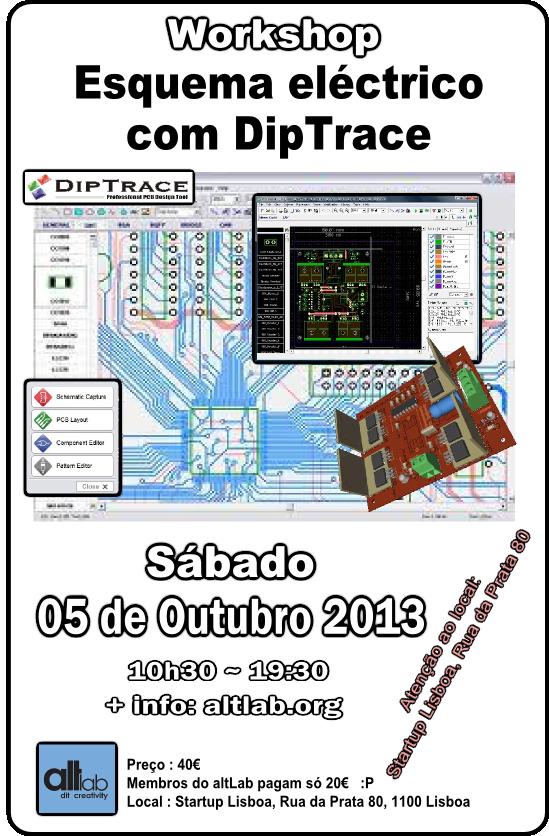 Workshop Esquema Eléctrico com DipTrace
Se já fizeste um esquema eléc­trico e ten­taste desenhá-lo num EDA (Elec­tronic Design Automa­tion) como o famoso Eagle já sabes como pode ser fas­tidioso, repet­i­tivo e frus­trante!
Dá o salto para o mais intu­itivo dos pacotes de desenho elec­trónico no mer­cado!
O Dip­Trace da Novarm é um soft­ware de EDA para a cri­ação de dia­gra­mas esquemáti­cos e pla­cas de cir­cuito impresso.
O que o Dip­Trace tem de difer­ente é ser super-intu­itivo de usar, ter uma curva de apren­diza­gem muito suave e a sua uti­liza­ção ser uma agradável sur­presa. No entanto, tem potên­cia qb para os mais exi­gentes e funções de sobra para os profis­sion­ais.
Na busca de soluções mais vál­i­das para os seus clientes, grandes empre­sas de kits didác­ti­cos basea­dos em micro­con­tro­ladores como a Par­al­lax (Basic­Stamp) ou a Rev­o­lu­tion soft­ware (Picaxe) preferi­ram o Dip­Trace ao Eagle para o desen­volvi­mento das suas pla­cas de cir­cuito impresso.
O Dip­Trace inclui os seguintes 6 módu­los:
— Schematic Design Edi­tor
— PCB Lay­out Edi­tor
— Com­po­nent Edi­tor
— Pat­tern Edi­tor
— Shape-Based Autorouter
— 3D PCB Pre­view
Para hobis­tas o Dip­Trace tem um ver­são free­ware com todas as fun­cional­i­dades do pacote com­pleto, ape­nas lim­i­tada a 300 pinos e uso não-com­er­cial. As camadas de ali­men­tação e terra (power and ground plane) não con­tam como camadas de sinal, por isso as ver­sões gra­tu­itas podem criar pla­cas de 4 camadas!
Para este work­shop os par­tic­i­pantes devem pos­suir con­hec­i­men­tos de esquema eléc­trico e de prefer­ên­cia já ter feito algums pro­jec­tos noutro soft­ware de desenho téc­nico como CAD ou EDA.
Os con­hec­i­men­tos de elec­trónica são dese­jáveis mas não fun­da­men­tais.
Con­ceitos abor­da­dos
a) Intro­dução ao Esquema Eléc­trico e Elec­trónico
b) Os Módu­los do Dip­Trace
c) Cre­at­ing a sim­ple Schematic and PCB:
— Estab­lish­ing a schematic size and plac­ing titles
— Con­fig­ur­ing libraries
— Design­ing a schematic
— Con­vert­ing to a PCB
d) Design­ing a PCB:
— Prepar­ing to route
— Autorout­ing
— Work­ing with lay­ers
— Work­ing with vias
— Net Classes
— Man­ual Rout­ing
— Mea­sur­ing trace length
— Select­ing objects by type/layer
— Plac­ing Text and Graph­ics
— Cop­per Pour
— Lock­ing objects
— Design Ver­i­fi­ca­tion
— Design Infor­ma­tion
— Pan­el­iz­ing
— Print­ing
Vem apren­der fazendo! O ambi­ente é téc­nico mas numa prác­tica descon­traída típica do alt­Lab!
Podem obter o Dip­Trace em [http://www.diptrace.com/download.php]
Este work­shop será ori­en­tado por mem­bros do alt­Lab.
Inscrições : AQUI (a inscrição on-line é obri­gatória)
Preço : 40€. Mem­bros do alt­Lab só pagam 20€ ;p
Local : Startup Lis­boa (Rua da Prata 80, 1100 Lis­boa)
Cá te esper­amos!