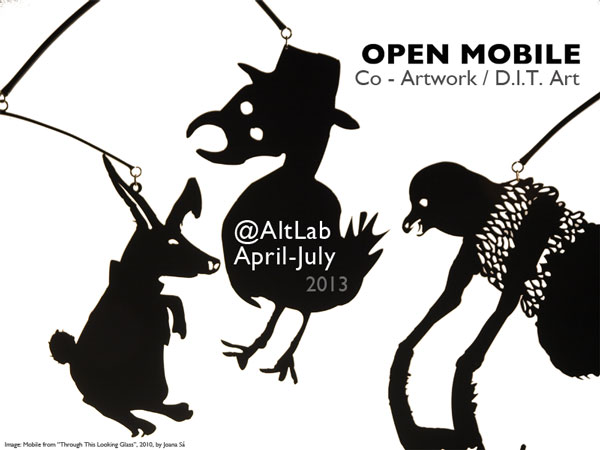 Open Mobile is a col­la­bo­ra­tive artwork that is being deve­lo­ped at AltLab and that is ope­ned to all mem­bers.
The mobile is cons­ti­tu­ted by pie­ces that are deve­lo­ped indi­vi­du­ally or col­la­bo­ra­ti­vely, and the final inte­grant struc­ture is built in order to sup­port all deve­lo­ped pie­ces and having in mind the cha­rac­te­ris­tics of each indi­vi­dual piece.
The indi­vi­dual pie­ces — OMPs (Open Mobile Pie­ces) can range from 3D prin­ted sculp­tu­res to elec­tric and/or moto­ri­zed works… stop by AltLab on any Tues­day (from 8.30pm on) and check it out.
Deve­lop­ment period: April — July 2013
__________________________________________________________________________________________
O Open Mobile é um pro­jecto artís­tico cola­bo­ra­tivo a ser desen­vol­vido no AltLab e o con­vite à par­ti­ci­pa­ção é aberto a todos os mem­bros.
A ideia é cons­truir uma estru­tura kiné­tica e/ou eléc­trica (aka "mobile) em que cada pes­soa (ou con­junto de pes­soas) desen­volve uma peça inte­grante. O "esque­leto" da estru­tura é pos­te­ri­or­mente desen­vol­vido de forma a inte­grar as peças indi­vi­du­ais e tendo em conta as suas carac­te­rís­ti­cas.
A ela­bo­ra­ção das peças indi­vi­du­ais — OMPs (Open Mobile Pie­ces) podem ir desde impres­s­sões 3D a tra­ba­lhos eléc­tri­cos e/ou moto­ri­za­dos… pas­sem pelo AltLab numa terça-feira (a par­tir das 20h30) e esprei­tem.
Período de desen­vol­vi­mento — Abril — Julho 2013