(scroll down for eng­lish)
A Audiên­cia Zero vai realizar uma residên­cia artís­tica mul­ti­dis­ci­pli­nar com os seus três lab­o­ratórios (Alt­Lab, LCD, xDA) no O Espaço do Tempo (Mon­te­mor-o-Novo) no período entre 01 e 07 de Março e 14 e 23 de Junho. A apre­sen­tação dos tra­bal­hos pro­duzi­dos na residên­cia será feita entre 12 e 25 de Julho. A residên­cia é antes de mais des­ti­nada aos actu­ais mem­bros dos lab­o­ratórios, mas está pre­vista a par­tic­i­pação de ele­men­tos exter­nos no caso destes apre­sentarem pro­postas de tra­balho con­sis­tentes e inter­es­santes. Mais infor­mações e inscrições no fim desta página…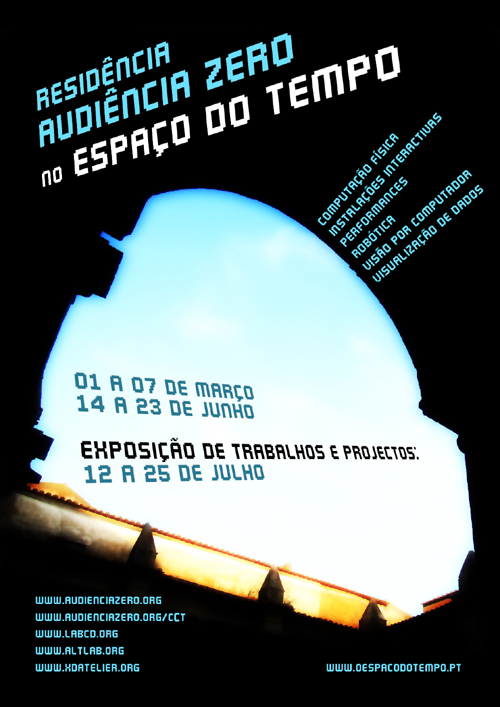 Os inter­es­sa­dos na residên­cia devem man­i­fes­tar o seu inter­esse e inscreverem-se com a maior bre­v­i­dade pos­sível (fim da página) para garan­tir lugar. A orga­ni­za­ção entrará em con­tacto para dar segui­mento à inscrição.
Quando solic­i­ta­dos pela orga­ni­za­ção os par­tic­i­pantes devem indicar se têm um pro­jecto em mente para desen­volver ou activi­dade a pro­por. Quanto mais claros forem os pro­jec­tos e as activi­dades, assim como os pápeis a desem­pen­har por cada um dos ele­men­tos das equipas con­sti­tuí­das ou a con­sti­tuir, maior é a probal­i­dade da activi­dade ou pro­jecto de ser integrada na residên­cia.
As vagas na residên­cia estão lim­i­tadas a 15, com dire­ito a alo­ja­mento e uma refeição diária. No caso de exi­s­tirem mais do que 15 par­tic­i­pantes ter-se-á que escol­her os pro­jec­tos mais inter­es­santes respei­tando os seguintes critérios de selecção: cria­tivi­dade, tec­nolo­gias envolvi­das, via­bil­i­dade e tempo.
Após o peri­odo de inscrições, serão avali­a­dos as apli­cações pelos orga­ni­zadores e definidos os artis­tas res­i­dentes. Ini­cia­re­mos a dis­cussão dos pro­jec­tos / activi­dades e definição da temática.
Exem­p­los Activi­dades:
. Work­shops
. Palestras
. Demon­strações
Exem­p­los de Áreas de Pro­jecto:
. Elec­trónica e Com­putação Física
. Insta­lações Inter­ac­ti­vas
. Per­for­mance
. Robótica
. Visão por Com­puta­dor
. Visu­al­iza­ção de Dados
—-
Audiên­cia Zero will hold a mul­ti­dis­ci­pli­nary artist res­i­dency with its three lab­o­ra­to­ries (alt­lab, LCD, xDA) in O Espaço do Tempo (Mon­te­mor-o-Novo) in the period between 01 and 07 March and 14 and 23 June. The projects pro­duced will be shown between 12 and 25 July. The res­i­dence is pri­mar­ily intended for the cur­rent mem­bers of this lab­o­ra­to­ries, but par­tic­i­pa­tion of exter­nal ele­ments is accepted where pro­pos­als are con­sis­tent and inter­est­ing. More infor­ma­tion and reg­is­tra­tion at the end of this page …
Those inter­ested in res­i­dence should express their inter­est and enroll as soon as pos­si­ble (end of page) to secure a place. The orga­ni­za­tion will con­tact you to fol­low up the appli­ca­tion.
When asked by the orga­ni­za­tion par­tic­i­pants must indi­cate whether they have a project in mind to develop or an activ­ity to pro­pose. The clearer the projects and activ­i­ties, as well as the roles played by each ele­ment of a team, the greater the like­li­hood of the activ­ity or project to be inte­grated into the res­i­dence.
Vacan­cies in the res­i­dence are lim­ited to 15, with the right accom­mo­da­tion and a daily meal. If there are more than 15 par­tic­i­pants, the orga­ni­za­tion we'll have to choose the most inter­est­ing projects address­ing the fol­low­ing selec­tion cri­te­ria: cre­ativ­ity, tech­nolo­gies involved, fea­si­bil­ity and time.
After the reg­is­tra­tion period, appli­ca­tions will be assessed by the orga­niz­ers and estab­lished res­i­dent artists. We will begin the dis­cus­sion of projects / activ­i­ties and define the res­i­dency theme.
Sam­ple Activ­i­ties:
. Work­shops
. Lec­tures
. Demos
Project theme exam­ples:
. Elec­tron­ics and Phys­i­cal Com­put­ing
. Inter­ac­tive Instal­la­tions
. Per­for­mance
. Robot­ics
. Com­puter Vision
. Data Visu­al­iza­tion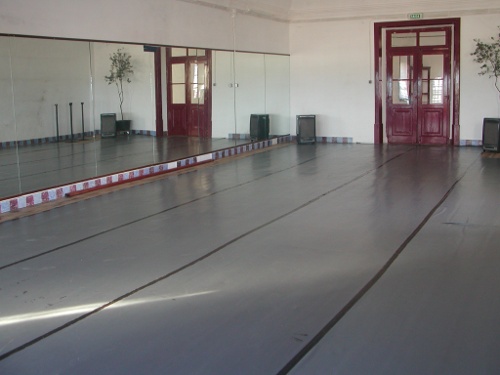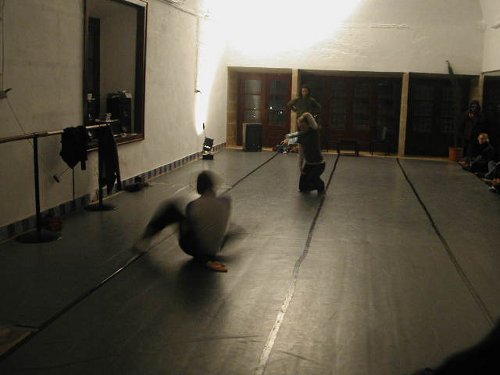 Orga­ni­za­ção: Guil­herme Mar­tins, Ricardo Lobo e Tiago Serra.
http://www.altlab.org
http://www.labcd.org
http://www.xdatelier.org
http://www.oespacodotempo.pt
Residên­cia AZ no Espaço do Tempo
1ª Edição
For­mador: Audiên­cia Zero
Coor­de­nador: Audiên­cia Zero
Datas: 1 a 7 Março; 14 a 23 Junho; 12 a 25 Julho
Horário: Todo Dia
Local: O Espaço do Tempo (Mon­te­mor-o-Novo)
Preço: 0 euros
Estado: Aber­tas as Inscrições