AZ Labs Hackmeet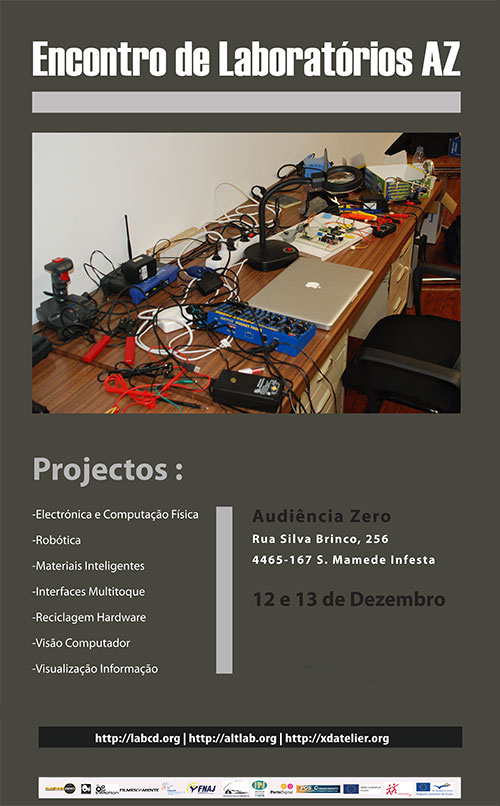 On Decem­ber 12 and 13 we'll hold the first big mee­ting of AZ's 3 labs: LCD, altLab, and xDA. We'll all get together in Porto, at AZ's head­quar­ters, for 2 days of cre­a­tive and fun hac­king. The main goals for this hack­meet are to share kno­wledge, explore syner­gies, col­la­bo­rate, rese­arch, and… (of course) hang out!
Lab mem­bers are cur­ren­tly for­ming work groups around topics such as: elec­tro­nics and phy­si­cal com­pu­ting, robo­tics, smart mate­ri­als, soft cir­cuits, mul­ti­touch inter­fa­ces, hard­ware recy­cling, com­pu­ter vision, and infor­ma­tion visualization.
AZ's hack­meet is mos­tly meant for lab mem­bers, but others are also wel­come to join in pro­vi­ded we have enough spots left.
—————–
Nos dias 12 e 13 de Dezem­bro os mem­bros dos três labo­ra­tó­rios AZ (LCD, AltLab e xDA) orga­ni­zam a pri­meira grande reu­nião de explo­ra­ção cri­a­tiva e tec­no­ló­gica sem fronteiras.
Este encon­tro é des­ti­nado, antes de mais, aos actu­ais mem­bros dos labo­ra­tó­rios, mas par­ti­ci­pan­tes exter­nos são bem-vindos, desde que as vagas exis­ten­tes assim o permitam.
Durante este fim-de-semana serão cri­a­dos gru­pos dedi­ca­dos às múl­ti­plas áreas em explo­ra­ção na asso­ci­a­ção: elec­tró­nica e com­pu­ta­ção física, robó­tica, mate­ri­ais inte­li­gen­tes, inter­fa­ces mul­ti­to­que, reci­cla­gem de hard­ware, visão por com­pu­ta­dor, visu­a­li­za­ção de infor­ma­ção, etc…
O objec­tivo é a troca de conhe­ci­mento, explo­ra­ção de novas siner­gias entre áreas, cri­a­ção cola­bo­ra­tiva, pes­quisa e inves­ti­ga­ção… e claro, con­ví­vio. Liber­dade total, para tudo ou nada fazer.
This entry was posted by Catarina M. on November 8, 2009 at 10:15 am, and is filed under News. Follow any responses to this post through RSS 2.0.Both comments and pings are currently closed.