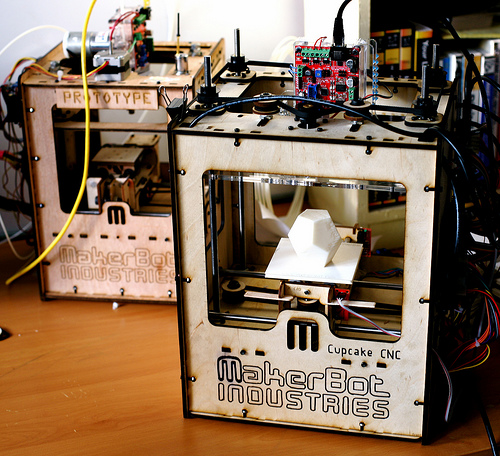 Datas: 19 de Out a 1 de Nov de 2009
Local: Lis­boa (espaço a anun­ciar)
Horá­rios:
19:30 às 22:30 (dias de semana)
11:00 às 19:00 (fins de semana)
total de 58h
Infor­ma­ção e ins­cri­ções: http://www.audienciazero.org/cct/3dprinting
Orga­ni­za­ção: Audi­ên­cia Zero (altLab + LCD)
Con­tacto: cata­ri­na­mota (at) audi­en­ci­a­zero (dot) org
(ins­cri­ções aber­tas :: número limi­tado de vagas)
:::::::::::
A impres­são 3D é uma forma ori­gi­nal de impres­são, no âmbito da tec­no­lo­gia de pro­to­ti­pa­gem, em que um objecto tri­di­men­si­o­nal é cri­ado por uma máquina a par­tir da acu­mu­la­ção de cama­das suces­si­vas de um dado mate­rial (Wiki­pe­dia).
O Workshop
O objec­tivo do workshop é a cons­tru­ção e uti­li­za­ção de uma impres­sora 3D open source (modelo Maker­Bot). Os par­ti­ci­pan­tes irão cons­truir a máquina de raiz: desde a mon­ta­gem das com­po­nen­tes elec­tró­ni­cas e extru­sor, pas­sando pela mecâ­nica, até à jun­ção de todas as peças. Irão ainda adqui­rir e aper­fei­çoar apti­dões e téc­ni­cas nas área de fabrico de elec­tró­nica, mecâ­nica, mode­la­ção 3D, fabri­ca­ção digi­tal e reso­lu­ção de pro­ble­mas com impres­so­ras 3D. O workshop será ainda um lugar pri­vi­le­gi­ado para adqui­rir conhe­ci­men­tos sobre os mais diver­sos tópi­cos, como teo­ria da elec­tró­nica, design de firmware, enge­nha­ria mecâ­nica, pro­to­co­los de série, fabri­ca­ção digi­tal e dese­nho 3D.
A impres­sora 3D cons­truída durante o workshop ficará pos­te­ri­or­mente dis­po­ní­vel para os mem­bros do altLab (qual­quer inte­res­sado se pode ins­cre­ver no altLab se assim o dese­jar). Os par­ti­ci­pan­tes que dese­jem cons­truir a sua pró­pria máquina, e levá-la para casa, terão que adqui­rir o res­pec­tivo kit open source no site da Maker­Bot.
Zach Hoe­ken
Zach Hoe­ken likes to dream big, fail big, and win big. His true pas­sion in life is acting as a catalyst and hel­ping others do ama­zing things. Whether it is cre­a­ting open source micro con­trol­lers (sanguino.cc), robot con­trol­ler soft­ware (replicat.org), object sha­ring web­si­tes (thingiverse.com), self repli­ca­ting 3D prin­ters (reprap.org), or hac­ker col­lec­ti­ves (nycresistor.com) there is one cen­tral pur­pose: to help other peo­ple help them­sel­ves cre­ate an awe­some world to live in. He hopes that some­day we can cre­ate a world that sur­pas­ses even the wil­dest futu­res por­trayed in sci­ence fic­tion. He thinks the uni­verse is and will con­ti­nue to be com­ple­tely rad. Do you want to help?
Datas e Valo­res para ins­cri­ção no workshop:
Ins­cri­ções até 31 de Julho: 200€*
(50% no acto de ins­cri­ção + 50% até 19 de Setem­bro)
Ins­cri­ções após 31 de Julho: 250€*
(pagos no acto de ins­cri­ção)
* não reem­bol­sá­vel