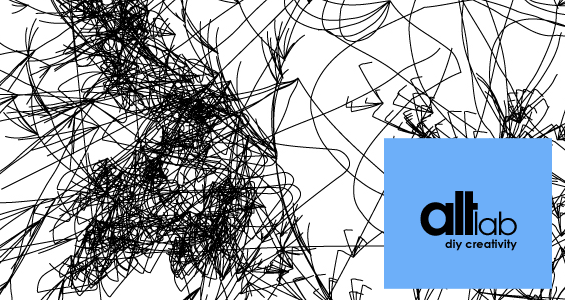 AltLab is a col­lec­tive dedi­ca­ted to inde­pen­dent rese­arch and expe­ri­men­ta­tion in alter­na­tive media. Com­mu­nity-based and com­mu­nity-buil­ding by nature, it seeks to pro­mote active par­ti­ci­pa­tion, kno­wledge sha­ring, and col­la­bo­ra­tion among indi­vi­du­als such as artists, pro­gram­mers, engi­ne­ers, hobbyists, sci­en­tists, and all those who wish to fre­ely explore cre­a­tive and eman­ci­pa­tory uses of tech­no­logy. Just like many other hac­kers­pa­ces which have emer­ged all over the world in recent years, AltLab has also been foun­ded on the noti­ons of software/hardware libre and the belief in col­lec­tive inde­pen­dent plat­forms for open and active kno­wledge-sha­ring and expe­ri­men­ta­tion.
In Febru­ary 2009, a group of inte­res­ted indi­vi­du­als, under the umbrella of Audi­ên­cia Zero, joi­ned efforts to cre­ate AltLab with the fol­lowing objec­ti­ves: Build stron­ger com­mu­nity ties by gathe­ring dis­perse cells of rese­ar­chers, artists, and DIYers around a com­mon and open plat­form; Pro­vide a sha­red phy­si­cal space for expe­ri­men­ta­tion, tes­ting, and deve­lop­ment of new objects and con­cepts (ran­ging from robo­tics to soft­ware to art to con­cep­tual rese­arch); Share kno­wledge, sup­port col­la­bo­ra­tive work, and col­lec­ti­vely push the boun­da­ries of DIY cre­a­ti­vity; Esta­blish part­nerships and syner­gies within and across the bor­ders with other col­lec­ti­ves that share simi­lar goals and ide­als. To achi­eve these goals AltLab:
Pro­vi­des a col­lec­tive works­pace;
Orga­ni­zes, on a regu­lar basis, public workshops, con­fe­ren­ces, paper pre­sen­ta­ti­ons, exhi­bi­ti­ons, talks, deba­tes, etc.;
Offers open lab days where all inte­res­ted indi­vi­du­als are wel­come to join us with the pur­po­ses of: just lear­ning about the pro­ject, pre­sen­ting pro­po­sals and ideas, wor­king with us;
Con­sis­ten­tly expands the col­lec­tive by accep­ting new mem­bers and col­la­bo­ra­tors as well as esta­blishing part­nerships with other orga­ni­za­ti­ons;
Main­tains a high level of open­ness and fle­xi­bi­lity to insure that AltLab's pro­jects and acti­vi­ties will be limi­ted only by the com­mit­ment and enthu­si­asm of those invol­ved and may be easily exten­ded beyond these ini­tial acti­vi­ties.
Hello World 😉